22/04/2015 11:00 PM
Thanks to Jason Hornby, an award winning garden designer, for sharing his knowledge on hardy perennials in his first blog post exclusively for Jacksons.
How perennials add consistent colour to your garden every spring and summer
Imagine every spring, as the days get longer and the sun gets warmer, being able to step out into your garden to be welcomed by a cornucopia of colours. Colours that last through into late summer only to come back again, year after year. This is the joy of hardy perennials.
A reliable group of plants that flower from early spring to late summer each year, and die back over winter.

If you haven't already considered it, now is a good time to think about not simply planting perennials, but also looking at the overall structure of your garden – something that these plants are particularly useful for.

A garden border should contain perennials that ascend in height from the front to the back, creating a dazzling display of colour throughout the seasons. The perfect background to this rich tapestry of colourful blooms could be a smart run of timber fencing, that would allow the plants some protection from the worst of the elements, the enemy of taller plants being harsh winds. This adds order that only offsets the naturalistic planting in your boarders and heightens the overall effect of the perennials' colour.
Plant these perennials with trees and evergreen shrubs and you are creating a framework and configuration that feels well-organised and considered.

Perennials to consider for the front of your border:
• Salvia nemorosa 'Sensation Rose'
• Sedum 'Matrona'
• Geranium himalayense 'Gravetye'
Perennials to consider for the middle of your border:
• Perovskia 'Blue Spire'
• Echinacea purpurea
• Helenium 'Waltraut'
• Persicaria amplexicaulis 'Firetail'
Perennials to consider for the back of your border:
• Verbena bonariensis
• Foeniculum vulgare 'Giant Bronze'
• Eupatorium maculatum 'Purple Bush'
• Veronicastrum virginicum 'Lavendelturm'

To give a more naturalistic feel to your planting plan, we would always suggest including some grasses. These will deliver texture, colour and movement to your borders. These could include:

Stipa tenuissima – this is a wonderfully whispy billowing grass that moves in the slightest breeze
Miscanthus sinensis 'Kleine Fontäne' - a stunning silver grass that flowers into Autumn and is great for adding winer interest when your perennials fade away
Pennisetum alopecuroides 'Hameln' - this deciduous grass has delightful bottle brush flowers

Next spring you'll want to cut your perennial plants back as this will extend the season of interest in the garden with spiders' webs spun between the lifeless stalks and cobwebs highlighted by the frost.
But the main thing is get those perennials in – you won't regret it.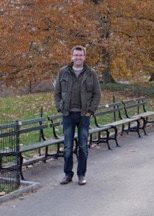 Jason Hornby, is an award winning garden designer who creates spaces inside and out that are both beautiful and functional. He believes that your garden should be a reflection of your tastes and needs. Enriching your life by being the extra space you are looking for. It is this ethos that allows him to give rise to gardens which are, quite simply, beautiful. www.hornbygardendesigns.co.uk