13/08/2009 10:57 AM
Jaktop (criss cross style) fencing used to protect pet dogs and keep them safe
After researching many fencing suppliers and considering the different types and styles available a couple who own a house in the countryside opted for our handcrafted Jaktop fence panels to keep both their vegetables and their pet dogs safe.
Why choose Jaktop criss cross style fencing?
With a love of gardening and a want to grow their own vegetables, the owners wanted to create an open area in order to have enough space for their new vegetable plot. However, they soon realised they needed a fence to keep their mischievous Golden Retrievers away from the freshly dug earth.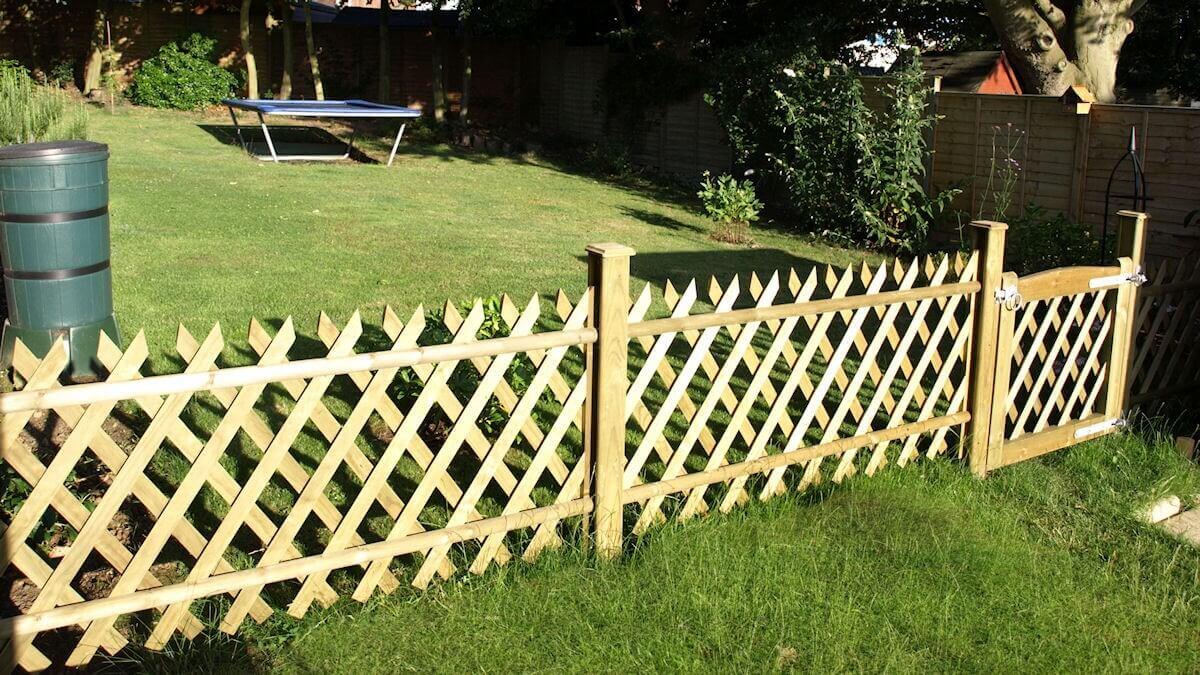 After recently updating some parts of the garden, the owners felt like Jaktop fencing was the perfect choice to border the new vegetable plot. It also complemented the existing garden features and fence as well as their new beloved shed.
Here are some more reasons:
The crossed half round timber pales ensure this traditional style panel offers a distinctive design with a criss-cross pattern.

The criss cross design allows visibility for the pets to see through.

Ideal alternative to palisade or picket style fencing.

Easy to install into slotted timber posts.
Did you know?
According to data gathered by PDSA.org an estimated 26% of UK adults own a pet dog. That's over 9.9 millions across the UK.
Traditional style fencing protects pet dogs and keeps flowers safe
The most common fence style for keeping dogs separated in a garden or away from plants is picket fencing because of its decorative design. Our Jaktop panels are often chosen by dog owners as the closely spaced crossed pales are small enough to stop a small dog from squeezing through the gaps but still allow visibility through the fence. this allows both the owner and the dog to be able to see each other at all times, providing comfort for both parties.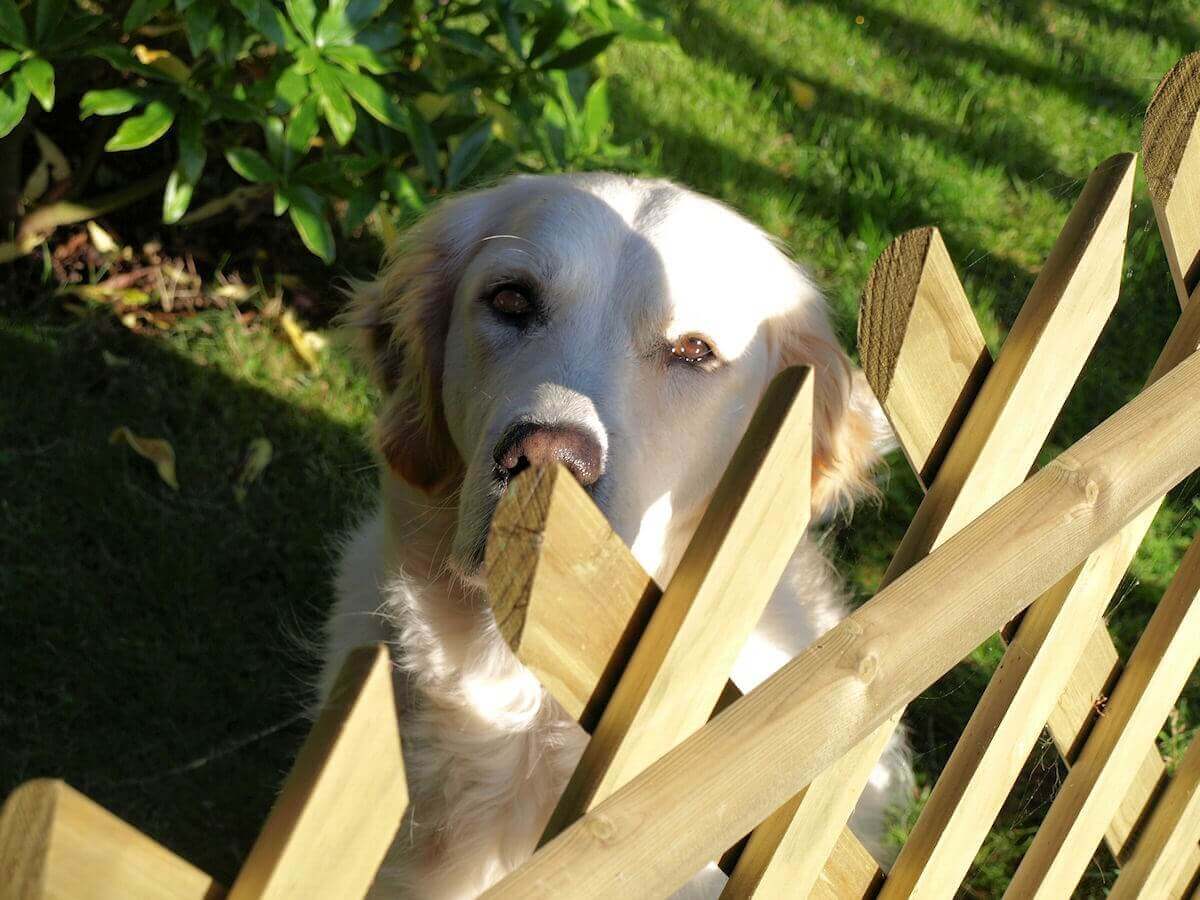 The clients stated, 'we are very pleased at how well the fence blends in; from the moment it was completed it looked as though it had always been there and we love the 25 year guarantee. Luckily, there was an obvious line for the fencing and it allowed us to keep our planting in the same area. It was only after we took this photo that we realised that fences are no deterrent for cats climbing cats though but it does a great job for protecting our plants from our dogs while still allowing them to see across the garden.'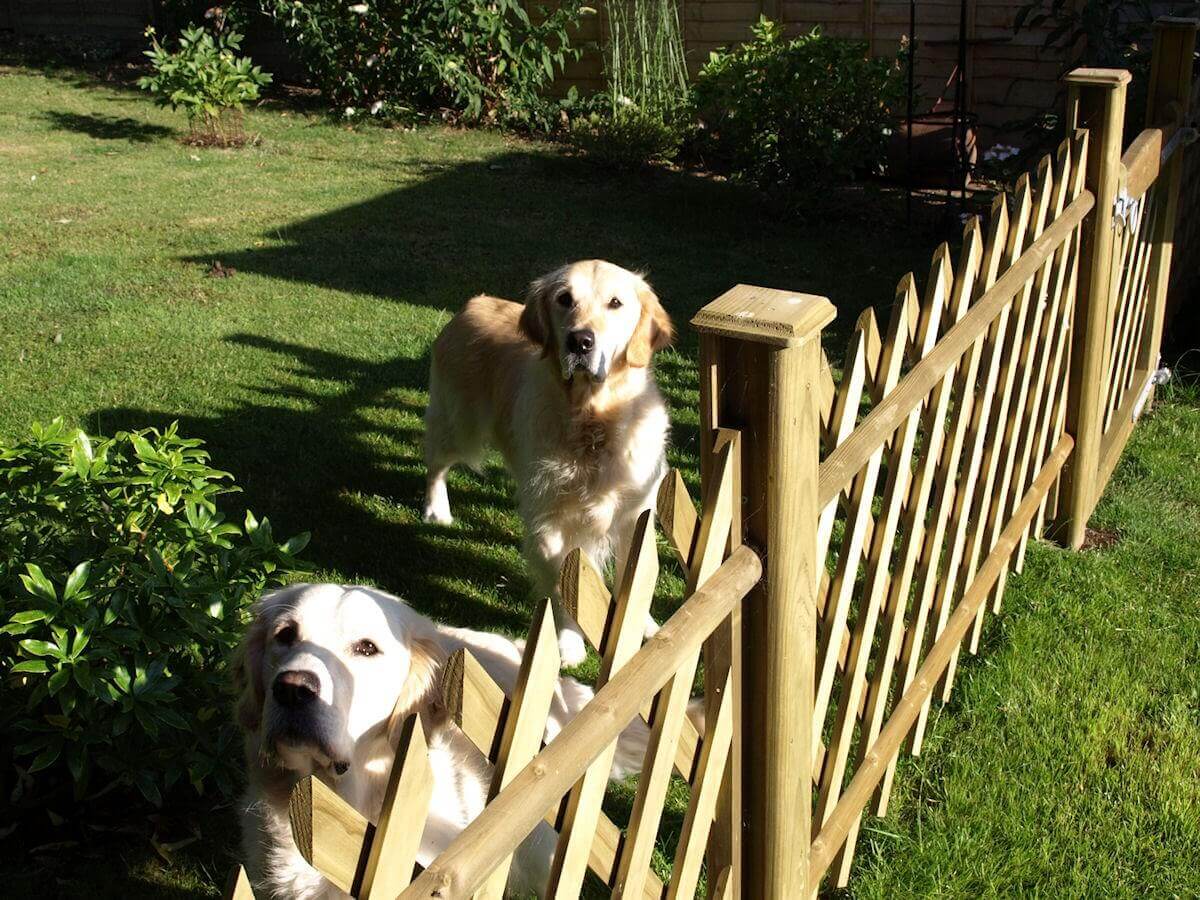 Another bonus for our Jaktop panel fencing is the ability to install matching garden gates, so you can create a seamless and attractive border to your home. If your dog is a digger, we recommend installing a gravel board dug slightly below ground level to mitigate this issue. If the fence is less than 50mm above the ground then you will require a gravel board to comply with our 25 year guarantee terms and conditions.