03/06/2021 12:00 AM
Our comparison of Concrete and Metal Fence Post
Concrete has long been seen as the strongest material for a fence post. There is a traditional audience in the UK who remain wary of using timber posts, as they have been bitten by inferior products to ours that rot after only a few years. This audience generally opts for concrete posts.
As we look to become more sustainable and combat the destructive nature of concrete, we have created
Mi-T posts
, a high quality, durable steel fence post that is guaranteed for 25 years.
Below we compare some of the advantages and disadvantages of concrete and metal fence posts.
Benefits of Mi-T metal fence posts
Lightweight
100% recyclable
Design allows a seamless fence line uninterrupted by fence posts
Will not rot or crack
Predrilled holes allow post to be attached to panel, strengthening the system and stopping the irritating rattling in the wind
Customisable with powder coating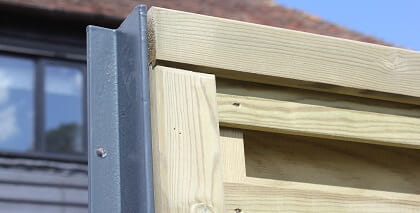 Disadvantages of Concrete fence post
They are heavy
Difficult to handle
Heavy to transport
Prone to cracking or crumbling
Destructive material
Non appealing appearance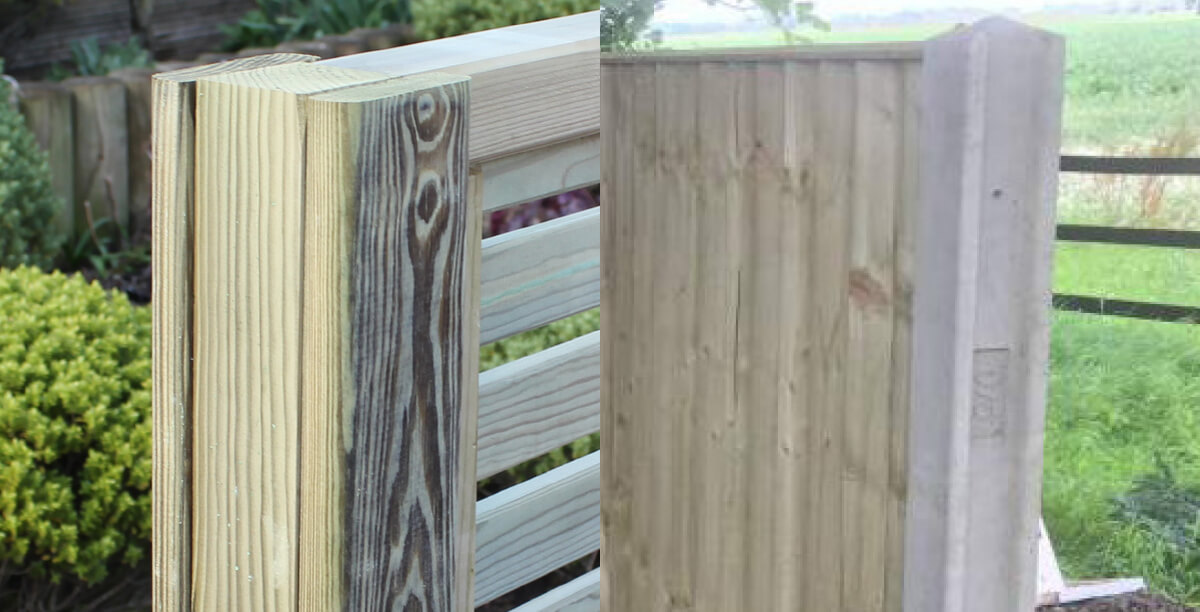 Timber vs Concrete Vs Metal Fence Posts
When considering which material to choose for a fence post there are multiple factors to consider.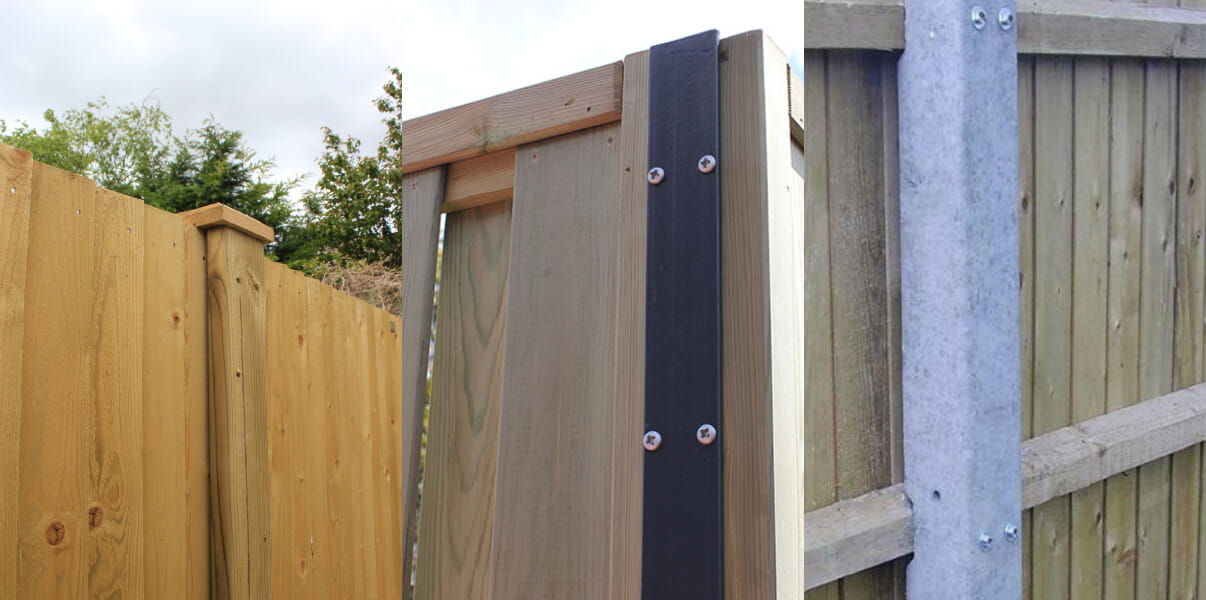 Aesthetics
The look and design you have planned for your garden will influence which material you opt for. We've always loved the unified appearance of timber fence panels and timber posts together, but metal Mi-T posts offer a new design element in terms a seamless fence line, where the posts are almost invisible from the front of the panel. Concrete has a stark aesthetic, which can suit industrial styles of garden designs.
Installation
Although you may not install the fence posts yourself, you may want to consider how easy the posts will be to be installed, as this is easily the most time-consuming part of any fence installation. Concrete is notoriously heavy and can take two people to install, instead of one for timber or metal, as they are lighter and much easy to handle.
Lifespan
All three materials can have around the same lifespan, but this can depend on a number of factors including the quality of materials, manufacturing processes, installation methods, and other external environmental conditions.
Concrete posts can last up to 20 years, but are not immune to the elements. High winds and excessive rain can affect the integrity of the post, making it prone to chipping or cracking. Once one crack appears, cold weather can accelerate its destruction quite quickly.
Timber posts, if you opt for ones with a long lifetime guarantee, having been pressure treated with high quality treatment, will last for 25 years and above. Inferior timber posts, which are usually the cheapest on the market, might only last 10-15. It's best to invest in more expensive, high quality timber posts that have a long guarantee to reduce the number of times you have to replace them.
Metal posts, as they are relatively new to the market may have varied lifespans. As a manufacturer of metal posts for our security fencing for over 30 years, we know how to make strong durable posts, and that's why we can confidently guarantee our Mi-T posts for 25 years. Always look for galvanised metal posts as this will extend the lifespan.
Sustainability
An important consideration is how sustainable the material is that you are choosing for your fence post.
Concrete has been deemed as one of the most destructive materials on earth. The effect concrete has on the environment makes them the least sustainable out of the post options and trying to move away from any concrete product is advisable
Metal posts, if chosen correctly are 100% recyclable. After serving their time supporting your fence panels they can be melted down and used again.
The sustainability of timber posts will be dependent on their lifespan. Our timber posts are designed to last at least 25 years and have a close to zero carbon footprint. Shorter guarantees will not protect the timber from rot and insect attack, and therefore the impact of producing more timber will increase the effect on the environment.