17/04/2023 12:00 AM
The average lifespan of a wooden fence will vary depending on the manufacturer. A good quality timber fence should last for at least 25 years if treated correctly.
There are a lot of variables that may impact the lifespan of a fence that we will explain in this blog, which will hopefully guide you in your search for a long-lasting fence.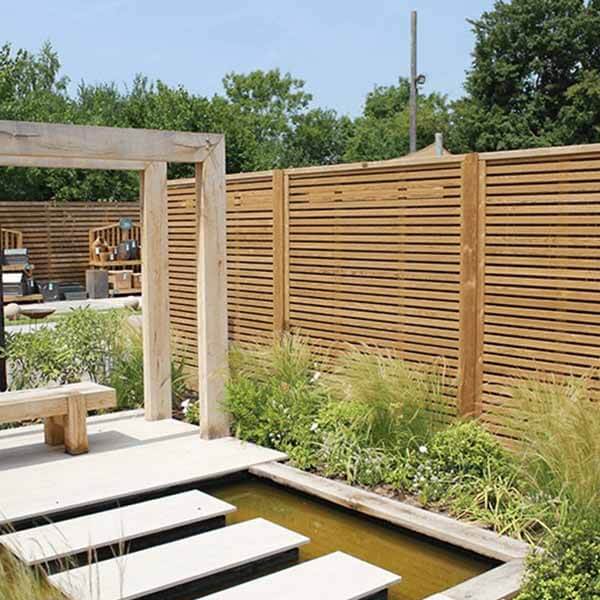 We know from experience and evidence that our timber products will surpass our guaranteed 25 years and keep on going for many years after that. We have testimonials from customer who have had our timber products for 38 years and longer – have a read here.
What increases the lifespan of a timber fence?
Timber fencing is a natural product and will, like most natural materials, decay over time. However, the way in which the raw timber is treated, and made into the end product – a fence panel – will have a significant influence on how long a fence panel will last.
1. Timber treatment extends lifespan of fence
Timber treatment is a soluble liquid that is either forced into or dip coated around the timber. Treatment will prevent or delay rotting and attacks from insects.
The most effective way to treat timber is by vacuum pressure treating which involves forcing the timber treatment via vacuum and pressure into the centre of the wood. This ensures the wood is fully protected. Dip treatments won't offer as much protection as the timber is only dipped into the treatment. This usually only penetrates the surface and therefore the centre parts of the wood have no protection.
2. Fencing that is designed for use will last longer
The design of a fence panel or gate will have a large impact on how well the product is designed for its purpose, and therefore cope with wear and tear. Fence panels will be put under strain in times of strong winds and pouring rain. If a fence panel is well designed and made with adequate rails, framing and fixings, the fence will cope a lot better and last lot longer.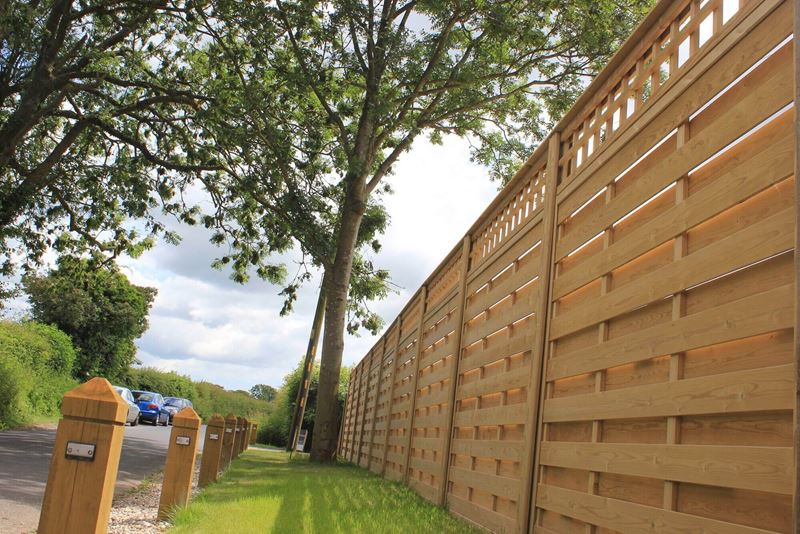 Using the correct fence posts will also affect how the fence will stand over time. Posts should be the correct size (width and length) to hold the weight of the fence. If fence posts that are too small are used, then the fence panels won't have sufficient support. Always use the recommended post size and check with the manufacturer what they recommend for your fence install location.
Gravel boards are hugely important and are recommended to be installed at the base of a fence panel to prevent the panel from touching the ground. Ensure you choose gravel boards and posts that have been treated for in ground contact. Rot and insect attack occur most underground so choosing products that are designed for this purpose will ensure longevity.
3. Fence panels fixings
Fixings, such as screws and nails, are integral to the success of a fence panel. Screws and nails will hold the panel together so should not be overlooked when considering which fencing manufacturer to use. Choosing quality screws like stainless steel will ensure longevity. Stainless steel is not susceptible to rusting which is often a common sight when using low quality cheap screws. The screws will rust almost instantly, ruining the look of your new fence. Rusting also affects the integrity of the fence as the strength of the screw is compromised. This could result in the fence failing, by pales coming unattached after a short time. Investing in a manufacturer who uses quality fixings and ensuring they are used during the installation will increase the life span of fencing.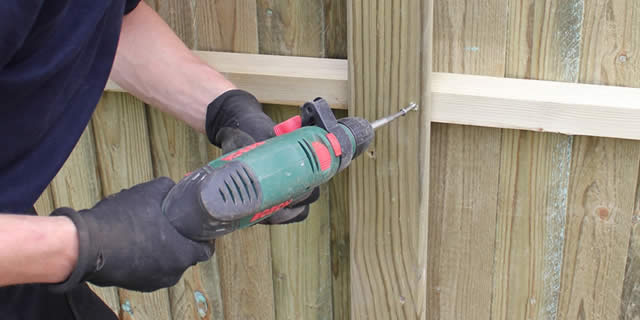 4. Installation of a fence will increase lifespan
How the fence is installed and using the correct products will majorly impact the longevity. Posts should be installed at sufficient depth for the height of your fence, soil type, and location. The amount of post fixing mix will also change when installing at different depths, which all need to be considered when installing the fence. Choosing timber posts instead of concrete will allow the fence panel to be secured to the post itself which eliminates the risk of a fence panel being blown out from between the posts. This is a common problem especially in storm conditions, which usually results in a damaged fence panel and other property. Ensuring good quality fixings and enough of them are used will ensure your fence will not fail because of stress on the panel itself. Gravel boards or kick boards protect the fence panel from ground contact and must be used to protect the fence panels and therefore extend the lifespan of your fence.
5. Location of fence
Where you live could impact the longevity of your fence, but this doesn't always mean it will reduce the lifespan if you take precautions. Environmental factors like areas with frequent strong wind puts strain on a fence and over time may affect its integrity. Choosing a panel suited to the conditions will help extend its lifespan. For wind prone areas like coastal towns opting for a semi-solid panel such as Hit and Miss will allow the wind to pass through the gaps between the panel rather than acting like a solid sail, and therefore reduce the stress on the panel and posts. Soil types might also affect what posts you need.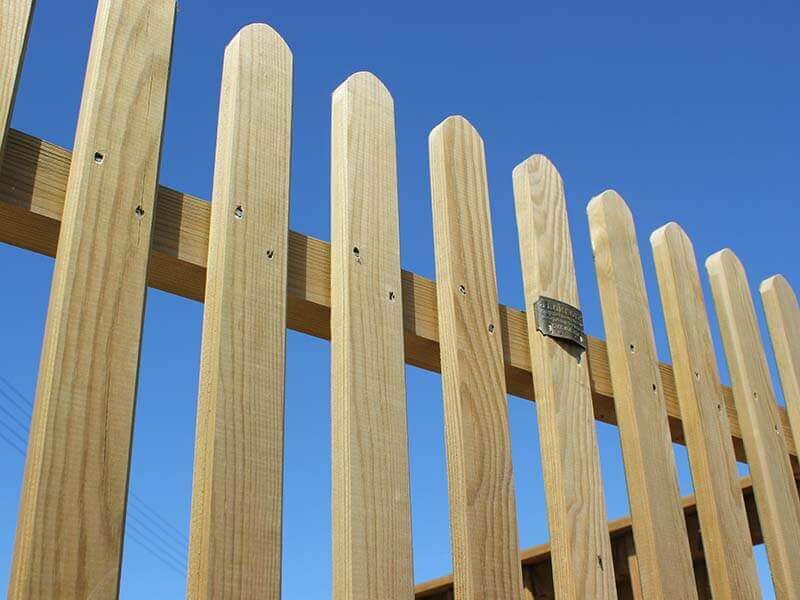 Some soils are looser or have more moisture and may move more over time. Timber posts may then need more post fixing mix to hold them upright. Some ground types may also require longer posts to be used to give adequate support, such as if the installation is at the bottom of a hill.
How long will a metal fence last?
Not all garden fencing is made from wood. You may have metal railings at the front of your property or metal topper panels fitted on top of your timber fence panels.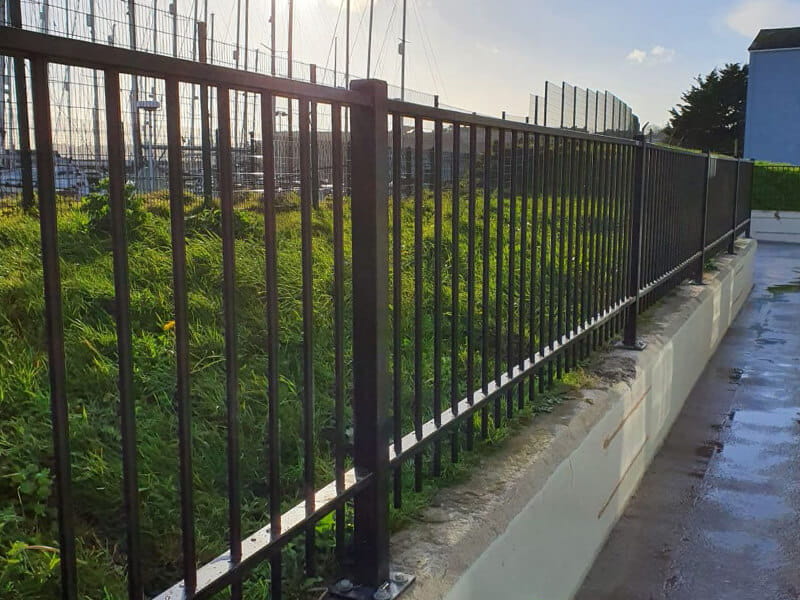 A metal fence can potentially last longer than a timber fence. Typically, a metal fence can last from 25-35 years but can last longer if you choose a good quality product. Look for a long service life guarantee as you will know a manufacture is confident in their product and the longevity of it.
Choose metal fencing that has been hot dip galvanised or zinc alloy coated as this provides an extra layer of protection against rust and corrosion. Opting for powder coating will improve the aesthetic value but will also add another layer of protection.
Choosing a design of metal fencing that doesn't have bolts holding the fence together, like a welded pale-through-rail design will help prevent weakness if a pale fails due to rusting of a bolt which can sometimes occur with triple point palisade. With pale-through-rail metal fencing, pales and rails are welded together, removing the need for bolts to hold the panels together.