10/07/2019 10:30 AM
How deep should a fence post hole?
One of the common questions we get asked is 'how deep should I install a fence post into the ground?'. There is no, one size fits all in this circumstance, as it will depend on ground conditions and the height of the fence.
Our standard recommended depth of a fence post hole is 600mm.
To begin, we suggest digging the post hole so it is approximately three times wider than the fence post. For example, if you have a 3 inch wide post that you need to sit over 1.83m (6ft) in height above the ground, we recommend the hole size should be: 230mm [wide] (9") x 600mm [depth]. This rule of thumb can be followed for all size posts (e.g. a 6ft high fence would require a hole depth of at least 600mm or 2ft). We do not recommend every post hole to be the same no matter the height of the fence post.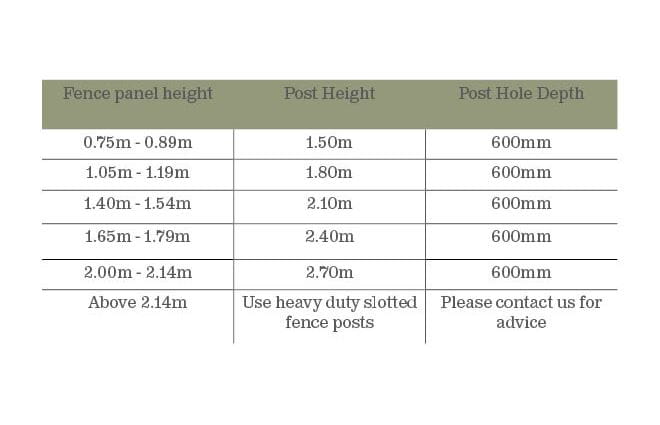 Which fence post to use
Panel Height

Slotted Inter Post

End Post

Corner Post

Post Height

Post Hole Depth

0.75m/0.89m

667200

668200

667220

1.50m

600mm

1.05m/1.19m

667300

668300

667330

1.80m

600mm

1.40m/1.54m

667400

668400

667440

2.10m

600mm

1.65m/1.79m

667500

668500

667550

2.40m

600mm

2.00/2.14m

667800

668800

667880

2.70m

600mm
Above 2.14m
Use Heavy Duty Slotted Fence Posts
Please Contact Us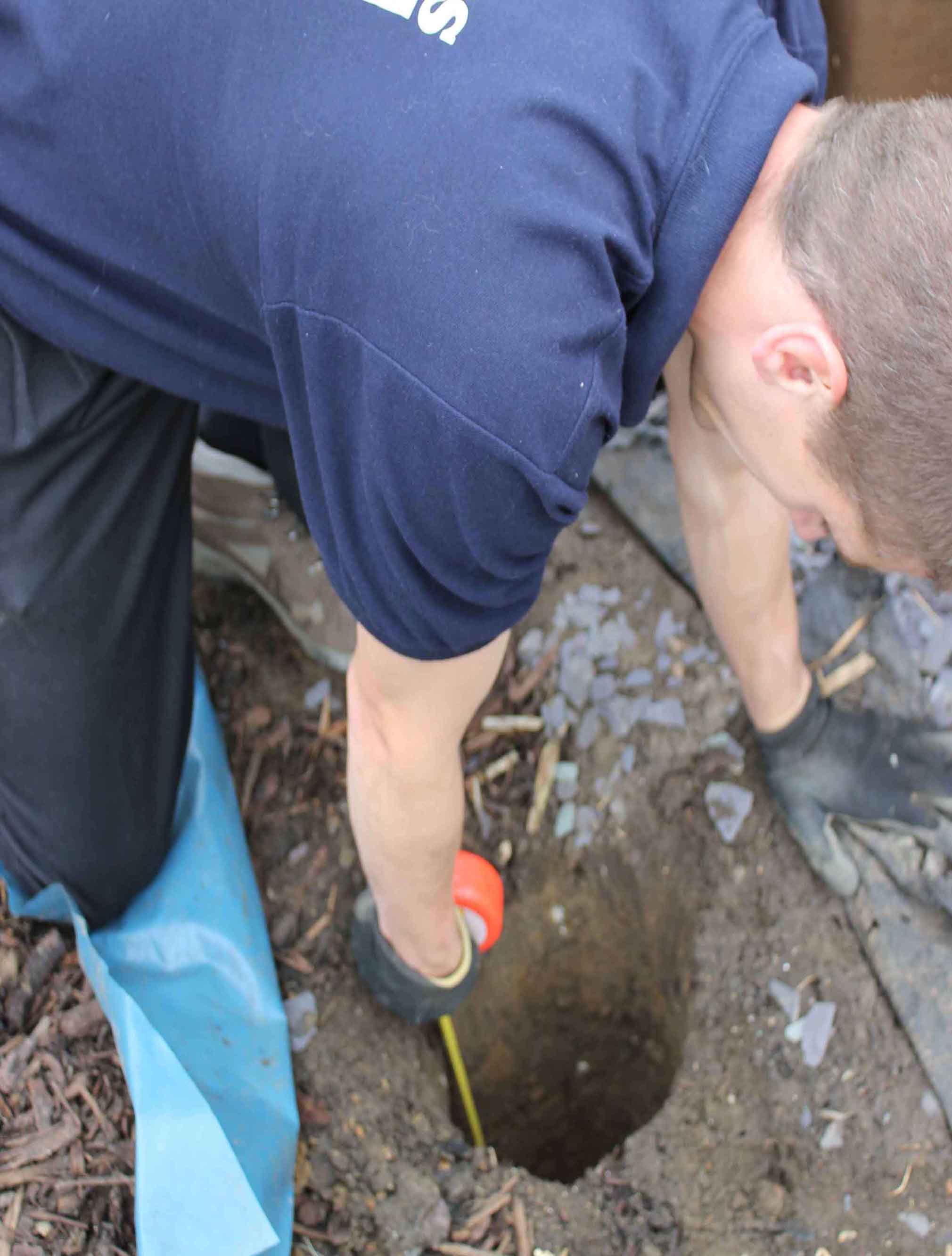 Safety first
We strongly recommend before you start digging your fence post hole that you either check for any mains electrics or contact your utility company to mark any underground cables or hazards. Doing this also allows for you to reassess the fence line, layout and any positioning issues to make sure everything is exactly where you require it.
Timber or concrete posts
If using timber posts it is important to note that they must be set in either concrete or Post Fixing Mix on top of a minimum of 2 inch ballast/gravel. This is to allow drainage to take place between the post and the concrete. For the best results we recommend using rapid drying Post Fixing Mix. Always try to angle Post Fixing Mix slightly so it can shed water away.
For additional advice about the positives and negatives for both concrete and wooden fence posts, giving you a fair evaluation of each type see our blog covering the topic.
Tools required
Rabbit hole digger
Hand shovel
Hammer
Garden stakes
Measuring tape
Level
Concrete /

Post Fixing Mix




Top tip
If you are planning on doing DIY we highly recommend a post hole digger or a rabbit hole digger which is essentially a single shovel that has been designed to dig circular holes. The unique design enables the user to dig straight down to the ideal depth and keep the hole relatively narrow in diameter compared to a conventional shovel.
Why not use a local Jacksons Approved Installer to undertake the job for you?
Please note: we would not recommend installing fence posts without the use Post Fixing Mix

This blog is designed to help you with installing a fence post. We have official timber fence posts instructions that you can view by clicking the link below.
Timber Fence Post Instructions
How to install a fence post
Download our Good Fencing Guide Brochure
Noise mitigation is usually a complex problem, so to ensure that you arrive at the best solution for your specific situation, we always recommend consulting a qualified sound engineer before you make your purchase.