19/12/2017 12:30 PM
Featherboard and metal railings used to help design contemporary garden
Brief: to create a visually interesting, low maintenance garden, with all year round appeal and colour. The garden is not likely to be used for entertaining, especially during the summer months due to family members suffering from severe hay fever. Therefore, the garden should be like a lovely painting for the family to view from inside, which continually evolves and changes colour through the seasons, and is definitely not to be used as an outside room.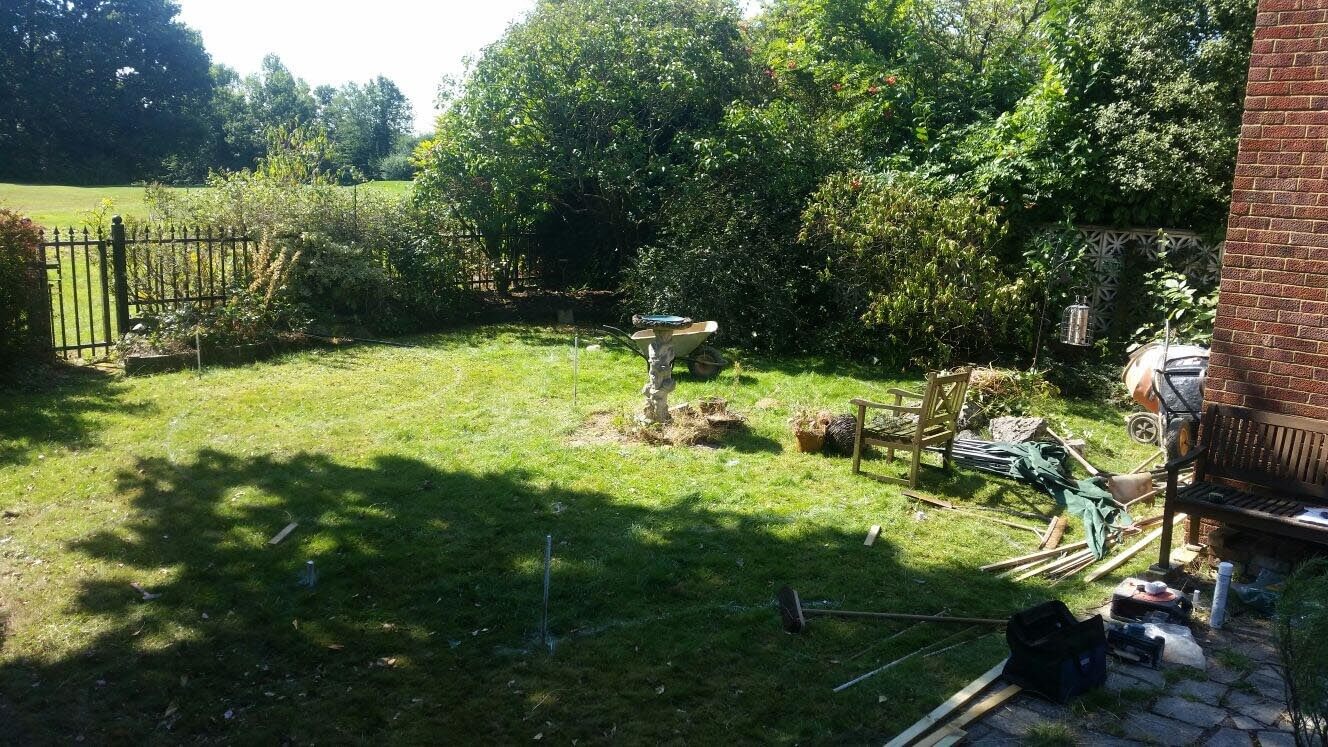 The design: the existing lawn will be removed and replaced with hard landscaping, of pale Kandla Grey Indian sandstone paving, laid in intersecting circular designs that contrast with inset areas of basalt chippings set in the cedagravel stabilisaton system.
Integrated in the paving design are pine mulched beds with low maintenance planting. A variety of plants and bulbs creating all year round interest, a mixture of fiery and cool coloured Heucheras, Verbenas, Echinaceas and Alliums for summer flowers and structure.
A rockery planted with various grasses, Liriopes, Brunnera to create a woodland effect. Acers for focal point interest surrounded in Crocus and Snowdrops for spring colour and interest. Some existing shrubs of sentimental value are to be carefully pruned and retained within the design.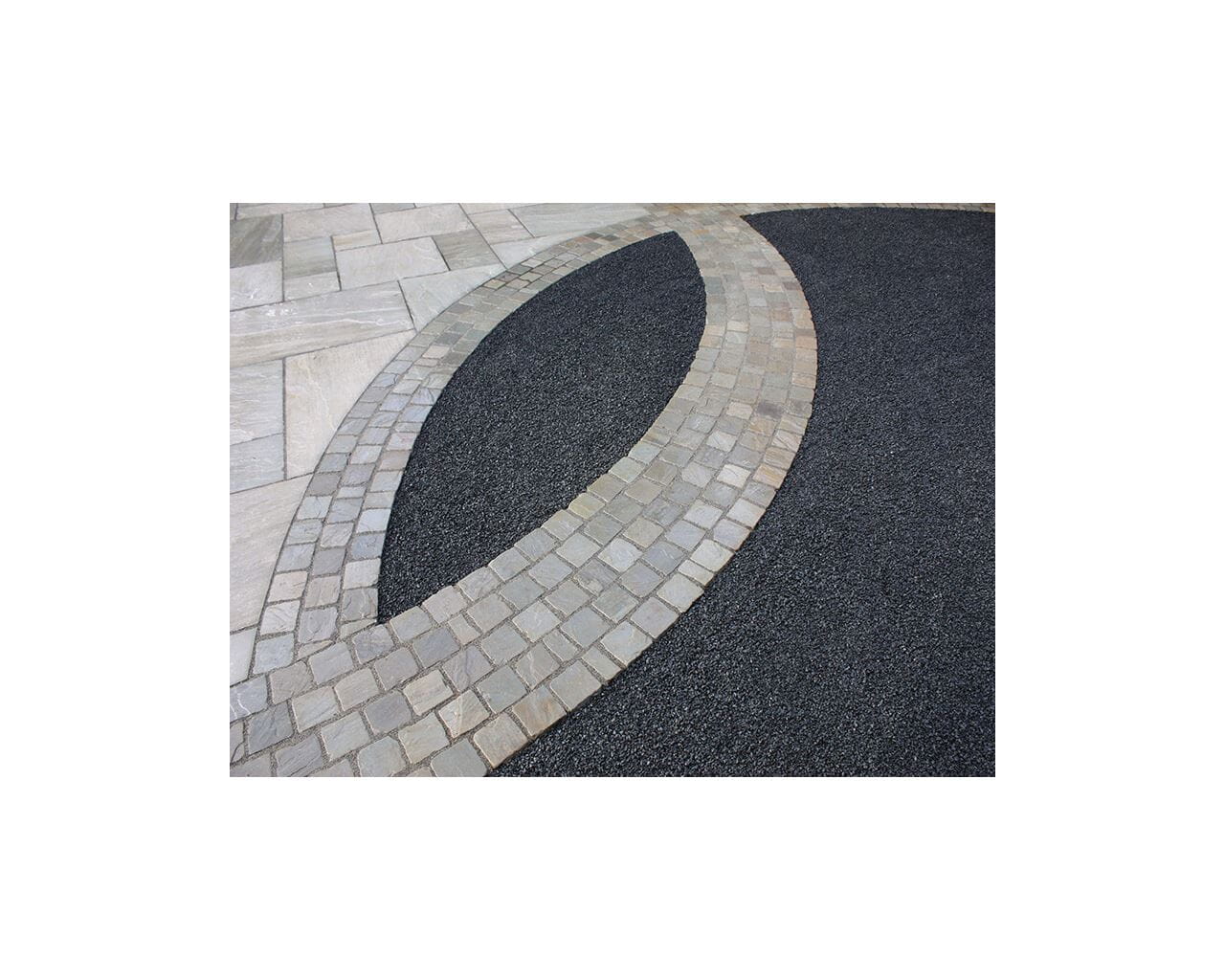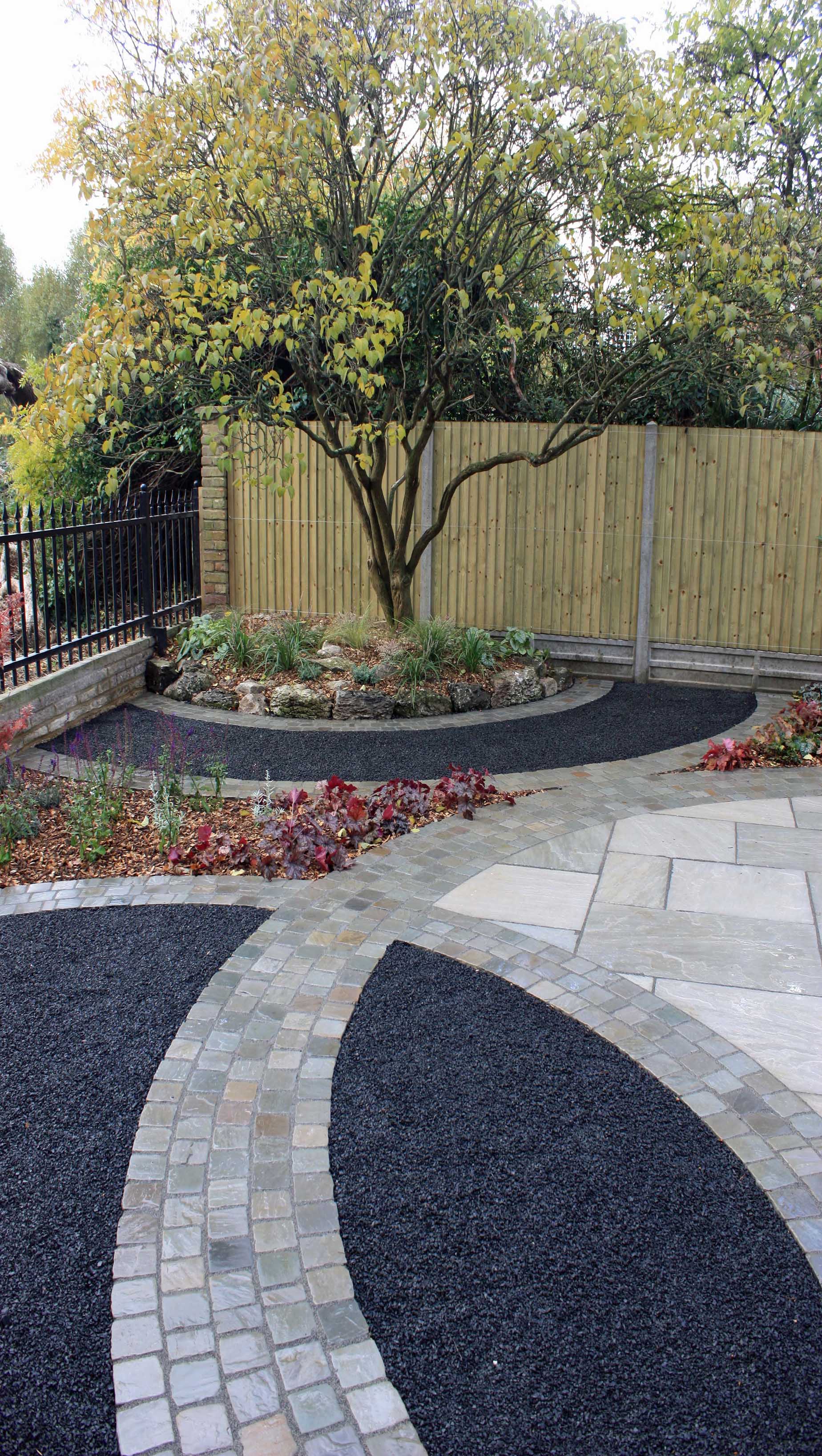 The garden, before the work was carried out was mainly grassed, quite unkempt with some large shrubs. Jacksons black powder coated steel low metal garden railings and a gate are installed, along the rear of the garden. The open design of the Barbican railings allows a pleasant green, unbroken view of the golf course, that the house and garden backs on to.
For this garden makeover the client contracted Lanwarne Landscapes to complete a full package of Garden and Planting Design by in-house designer Martin Lines. Construction and Planting by the skilled landscape team, James Curnock (Nectar Apprentice of the Year 2016) and Alessandre Smaldone, and project managed by Lanwarne Director, James Lanwarne.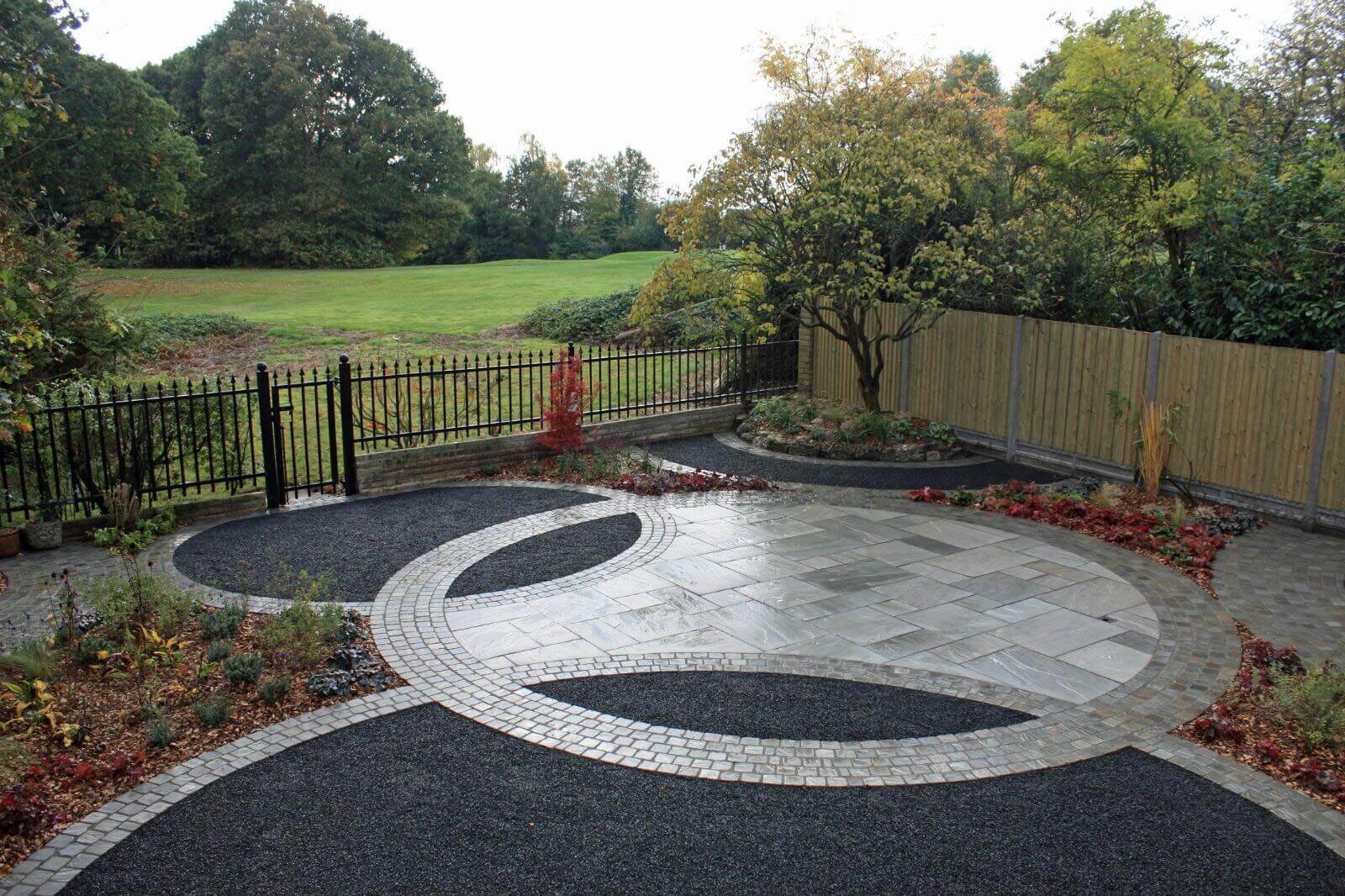 The Lanwarne team specified Jacksons' featherboard fence panels considering them to be the best in the market place with their the quality and strength, not to mention the 25-year guarantee, to match the high quality of the other materials in the garden. (Note from the Editor: Those eagle-eyed amongst you may notice that the featherboard fence panels in the pictures above have not been installed with Jacksons slotted timber fence posts (Jakposts) and gravel boards, and instead concrete posts and concrete gravel boards have been used at the request of the clients. Jacksons do not sell concrete products and we only recommend using Jacksons' Jakcured timber posts and gravel boards, as these are made from types of timber that are treated specifically for ground contact, and most importantly have our 25 year guarantee. The many reasons why we strongly favour timber over concrete are discussed in this blog - Concrete or Wooden Fence posts?)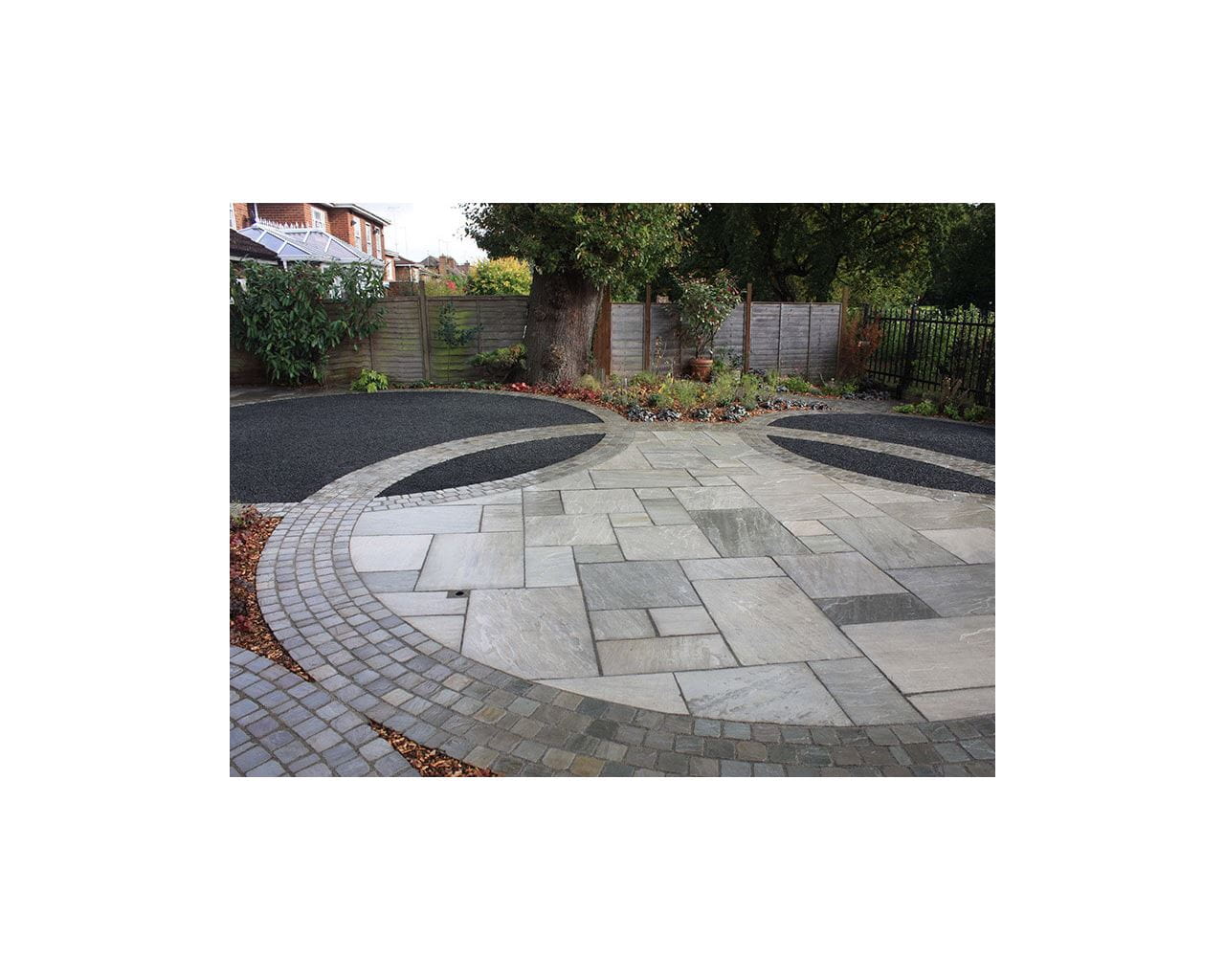 The clients are absolutely delighted with their new garden saying;
"We used the Association of Professional Landscapers (APL) to select four potential landscape companies to redesign our back garden.
Lanwarne Landscapes secured the job because their designer, Martin Lines, took the time to visit us. By meeting him, we knew that we could work with him (when you are selecting someone to work on your home/garden there is nothing like the personal touch to help instill confidence).
Martin, the designer, was pleasant to deal with and listened to what we required from our new garden. He presented us with three designs and both of us immediately agreed on the one we wanted to use.
Work commenced on 30th August and lasted nearly eight weeks, as there was a large amount of hard landscaping to be done. James Curnock who led the build team was outstanding and has an eye for detail and precision.
We are delighted with the new layout of our garden and wait to see what joys await in the planting as 2017 unfolds." Walter and Judith Curati
Thanks to:
Walter and Judith Curati
For more information regarding the Association of Professional Landscapers and finding a reputable landscaper go to www.landscaper.org.uk
Please note: Jacksons Fencing do not sell concrete posts but do offer advice on the subject for concrete vs wooden fence posts.
Additional resources
Top Tips For Sustainable Fencing
Understanding Different Fencing Types
Good Quality Fencing Can Add Value To Your Home