25/01/2010 12:55 PM
Mr Green of Seabrook, Hythe sent his photos in and told us about this wonderful deck that has transformed his outdoor area.
Hi Jacksons
I've attached photos of my deck that I built this summer (2009). It is a large decking area built entirely using your products: decking boards, joists, balustrade and posts, and was quite an ambitious decking project, that proved to be well worth it as it has totally transformed the rear area and we now have a great outdoor living space to enjoy the summer evenings.
The main reason for putting the deck there was to make good use of the space from the back of the house. The ground slopes away quite steeply. It was quite a drop from the back door to the grass, which previously had some horrible concrete steps down to the lawn. (see photo). The decking area is now level with the house, so we can now step out from the lounge onto the deck. Because this has raised our sitting area up higher we can now sit on the deck and enjoy much more of the sea views.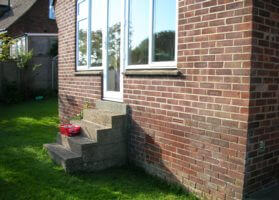 The horrid concrete steps that previously led down to the garden.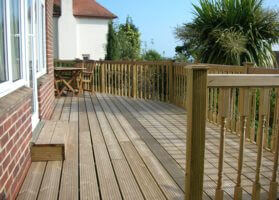 Just one simple step out of the back door now onto the lovely new deck.
Ordering with the help of your staff was easy and delivery arranged as requested. I had to make a second order for a few extras and again it was very easy to arrange. Thanks for all your help!
Good quality wood was easy to work with. I had never done anything like this before, but my Dad is a civil engineer, so he drew up the plans and did the maths in regard to what size joists we needed and where the posts needed to be etc. I have attached another photo with a picture of the frame being built. It took about a week or so to build with a second delivery from yourselves due to a change in design, but you were able to provide that at short notice.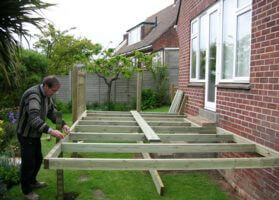 Preparing the frame and joists.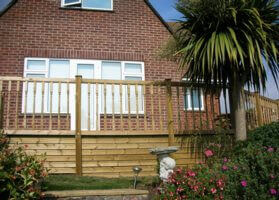 Another view of the glorious deck, showing the garden decking boards used as cladding and Jacksons style 2 balustrade.
I pass Jacksons each day on my way to work and had seen some of the products previously, so I felt your products would last longer than places such as the usual large D.I.Y. chains etc..!! They certainly don't offer anything like a 25 year guarantee.
I have not used Jacksons products before this project, I had not needed to, but I have used you since; your superior quality products and quality of service have won me over.
Mr Green, Seabrook, Hythe, Kent.