18/07/2007 02:05 PM
We were delighted to hear from a customer from the Arun Valley in West Sussex recently, who wanted a quote for replacing a fence he had from us originally. He thought the time had come to replace it, as it wasn't quite as strong now as it had once been. It turns out that the fence Lance Henslow is talking about is around 40 years old; his father installed it back in the late 1960's.
Lance had this to say on the condition of his forty-year-old fence, "There's a hole in the fence by the gate as someone could not aim with his tractor a few years back, tractors are enemy number one of fences! As I said, some of the fence is suffering now, and I did a bit of damage when scrub clearing with a digger a few years back, but in the main it is still standing though brittle. Whatever, the good stuff still looks really great and is a very long run".
Over 500m of two and three rail special heavy morticed post and rail fencing was installed back then as a boundary and to divide up areas of the property. Over the years it's had sheep wire attached to keep lambs in and has withstood testing from livestock whilst standing firm. Lance says his father chose the fence because he liked the way it looked and because it was pressure treated, in the hope this would add to it's longevity.
"Im so impressed with how it's lasted, when it came to replacing it we definitely would like the same fencing again for obvious reasons, good looking, durable and more than a cut above the rest". Lance continued, "For me choosing a well known brand like Jacksons is like buying a Nikon camera, you know what you are buying, they do an excellent job, and the lenses are interchangeable with newer models over time, just as decades on you can still get the same good quality sections for your old Jacksons fence".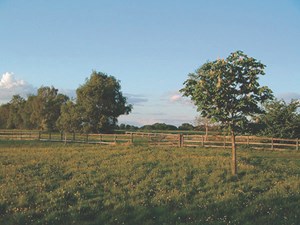 Lance went on to say, "I am considering leaving several sections of the 40-year-old fence standing, it will be very interesting to see how it looks in five and ten years time, I bet it will still be standing, and looking good".
We can't help agreeing with him, we often say to customers our fences will last in excess of the 25 year Jakcure guarantee, well that's certainly the case with this one.
Do you have some Jacksons' products that are even older than this?
Let us know at pics@jacksons-fencing.co.uk