15/02/2016 09:00 AM
With so much wet weather occurring across the UK in recent weeks, it's an ideal time to discuss the subject of anti-slip decking with someone who really knows their stuff. We caught up with Mark Eggleston, MD of WJ Group and owner of the DeckWright Anti-Slip brand, to ask a few essential questions on the subject of slippery timber decking.
What makes timber decking slippery?
"Whilst an outdoor timber surface looks fantastic, it will always have the potential to become slippery in certain environmental circumstances. The most obvious situation is when it becomes wet, most commonly from rain. This moisture prevents the sole of footwear from developing any sort of grip resistance with the timber surface and significantly increases the risk of slipping. We can of course enjoy downpours in all seasons here in the UK and so this can become a year-round risk.
Coupled with moisture, any build-up of algae, moss, debris (perhaps falling leaves) and grime on the boards will increase the risk of slipping too. Again, this reduces the ability of the shoe to establish any grip with the timber surface."
Are some standard boards less likely to become slippery?
"Whilst grooved deck boards can offer more grip than on-routed boards, the reality is that all specifications of timber decking can become slippery under certain conditions. It's not down to wood species or board profile – timber alone can only offer sufficient grip in the right conditions."
What exactly is anti-slip decking?
"The essential purpose of anti-slip decking is to add an enhancement to timber decking that will ensure there is significantly more grip in all conditions and circumstances. The enhancement is intended to provide a reassuring grip come rain or shine, summer or winter. The most widely used process to create anti-slip decking is to fill a number of the routed grooves in the board with a resin and aggregate mixture that remains intact for the life of the decking, sitting slightly proud of the board. Other solutions and products do exist and as this market continues to develop, I'm sure that new ideas will materialise."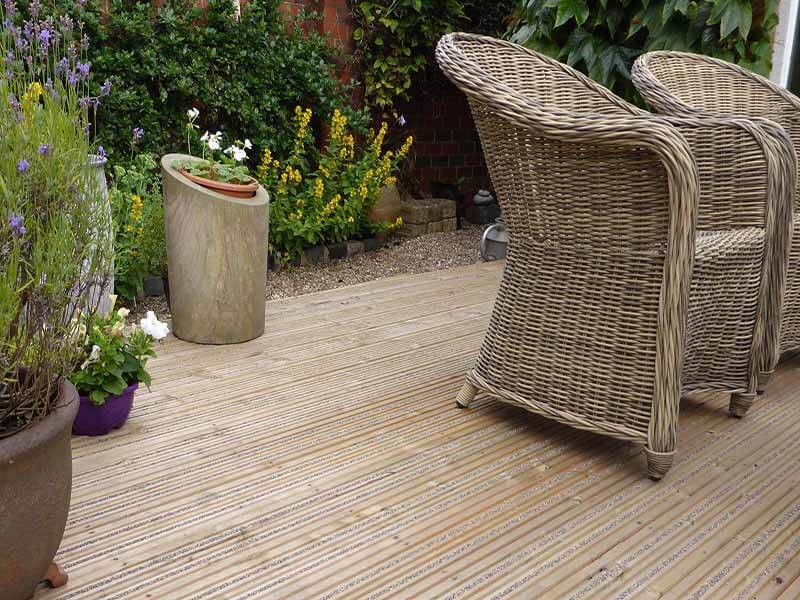 Why is anti-slip decking beneficial and who should be considering it?
"Slipping on timber decking might result in a graze, or something far more serious. Whether a residential decking area or a commercial location, reducing the risk of injury is highly desirable and for businesses, can demonstrate a high level of safety awareness and avoid an unpleasant (even costly) customer experience.
Anti-slip decking provides a higher level of safety to all that use it and peace of mind to those responsible for it. We are seeing the usage widen significantly, ranging from residential projects, holiday parks, schools, play areas, restaurants and hotels, office areas and leisure attractions.
How do we know it works?
"Professional anti-slip decking should be fully tested and approved. The usual method is the Pendulum Slip Test, which simulates someone walking over the surface in first dry and then wet conditions. The results provide a PTV value and this is required to be over 35 in order to be described as "anti-slip". The higher the value, the better the grip. DeckWright Anti-Slip for example, achieved a PTV score of 71 and is considered to be "highly anti-slip".
Do products exist to add an anti-slip enhancement to decking that is already laid?
"If the decking is already laid, a retrospective anti-slip solution is required. WJ Group supplies DeckWright Inserts for this purpose and they can be fixed into most grooved decking boards, coping with all levels of footfall, whether for steps, walkways or larger areas. Other products include screw on strips that sit on top of the boards and anti-slip oils and paints. Not every product achieves the same results are some are not suitable for heavy footfall areas, so careful research is necessary."
How easy is anti-slip decking to work with and install?
This is a key consideration for many contractors and installers. Time is money and so they need a product that is not difficult to install. DeckWright Anti-Slip for example, can be cut on-site using standard tools and we know that this offers a distinct advantage to many of our customers.There will be variances between products and so it important to ask this question of your supplier."
Are there other alternatives worth considering?
"Slippery decking is one of those subjects that everyone has an answer for! Whether chicken wire, sand in paint or some other creative solution, there seems to be no shortage. Many anti-slip oils and paints exist, but bear in mind any previous coatings, the inevitable re-applications and the aesthetics on the timber decking. Many might agree that the best solution is a "proper job" that will prove to be effective, last for the life of the decking and not detract from the natural charm that an outdoor timber surface provides. For me, that will always be professionally manufactured anti-slip decking."
You can learn more about DeckWright Anti-Slip by visiting www.deckwright.co.uk or calling WJ Group on 01482 338950.
We are delighted to be working with Jacksons, providing their Jakcured deckboards with our anti-slip application. Both of our companies have seen increased awareness and demand for this type of enhanced decking product in recent years.