05/08/2015 12:00 AM
One month on and the weather is better than ever so here's the second in our series of garden entertaining – how to transform your outdoor space into the ultimate alfresco party zone! This blog provides more practical tips designed to help you put on a great party in the garden this summer.
Sitting comfortably?
Don't worry, formal seating is strictly off the agenda for this type of bash and most people are happy to stand, however it is always helpful to offer some limited seating. Cosy scatter cushions and bean bags, funky deckchairs, convenient folding chairs, even inflatable seating will all fit the bill and can be easily cleaned up after the party has run its course. And for those of you living in the country, you can't beat a few straw bales to add some rustic charm to the proceedings!
When the heat is on
If the temperatures really begin to soar, you will need to ensure you have some shade solutions sorted for when the party is in full swing. Obviously bespoke timber garden shelters, such as The Retreat are perfect for this type of event but you may need to consider some additional temporary shade strategies to keep your guests comfortable. A dramatic shade sail can be quickly installed in the garden, delivering instant respite from the sun. Equally you might want to invest in a stylish gazebo or a series of brightly coloured outdoor parasols, both of which can set the scene for a totally cool outdoor get-together.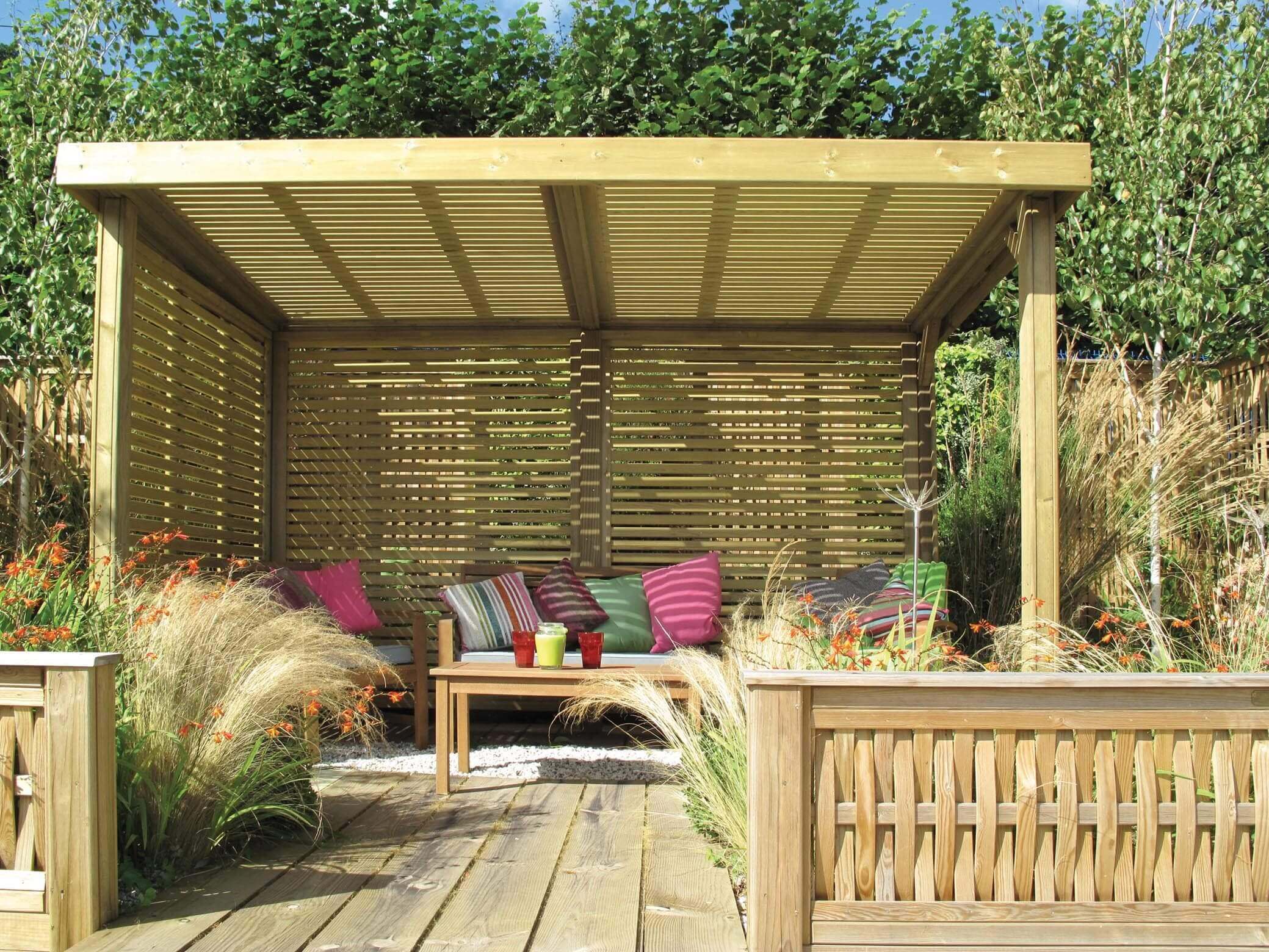 Lighten up!
If your party is likely to run into the evening, you'll need to consider ways to light up your outdoor room. Access to a power source will obviously determine some of your lighting capabilities but you can also achieve amazing effects with a few strategically placed candles and torches. ;A series of jam jars featuring tea lights and hung from trees also makes for a simple yet effective solution, as do fairy lights (battery operated) carefully strung on trees or draped over a key garden feature.
Food glorious food
Food always seems to taste so much better when enjoying the summer sunshine but keep your catering simple or you will end up a slave to the kitchen. Here are some winning outdoor dining culinary delights that can be cooked up with the minimum amount of hassle!
Barbecue steak with lime and mango salsa
Ingredients
For the steaks:
1 tbsp light soft brown sugar
½ lime, juiced
4 steaks

For the salsa:
1 medium mango, diced
1 ripe avocado, diced
1 red chilli, finely chopped
small handful of fresh coriander, chopped

Method:
Mix the brown sugar and the lime juice together and pour over the steaks, turning to coat completely. Set aside for 10 minutes. Meanwhile, combine all the salsa ingredients in a bowl and season lightly.
Remove the steaks from the marinade, season, then lay them on a hot barbecue and cook undisturbed for 2-2½ minutes on each side for a medium-rare steak. Add another minute or so if you prefer medium to well-done steak. If using a griddle pan, set it over a medium to high heat until smoking hot and cook the steaks as above.
Loosely cover the steaks with foil and leave to rest for 3 minutes before serving.

(www.realfood.tesco.com/recipes/barbecue-steak-with-lime-and-mango-salsa.html)
BBQ halloumi, new potato and sage kebabs by Genevieve Taylor
Ingredients.
400g new potatoes
olive oil, for dressing
2x 250g packs halloumi cheese cut into cubes
small handful of sage leaves
sea salt and freshly ground black pepper.

Method:
Put the potatoes in a pan, cover with cold water and add a shake of salt. Bring to the boil and cook until tender, about 15 minutes. Drain and cut in half, toss in a good slug of oil and season with salt and black pepper.
Toss the halloumi separately in another good slug of oil, adding seasoning as you go. Thread the potatoes and halloumi alternately on to 6 skewers, tucking the sage leaves in-between.
Cook over a medium-hot barbecue for about 10 minutes, turning regularly, until evenly charred.

(taken from How to Eat Outside: Fabulous Al Fresco Food for BBQs, Bonfires, Camping and More by Genevieve Taylor)
Just desserts – Barbecued peaches
Ingredients
4 peaches, halved and stones removed
1 tablespoon vegetable oil
2 tablespoons honey
275g (10 oz) soft cheese
Method:
Brush peaches with a light coating of oil. Place cut side down onto the barbecue. Cook for 5 minutes or until the surfaces have nice barbecue marks. Turn the peaches over and drizzle with a bit of honey. Place a dollop of the soft cheese in the place where the stone was. Barbecue for 2 to 3 more minutes, or until the filling is warm. Serve immediately.
(
www.allrecipes.co.uk/recipe/5081
)
Don't forget to keep your food table insect free, try a natural deterrent by making a set of "climes" – a lime cut in half and covered in cloves. The bugs hate them!
Bang on!
Why not let your party go out with a bang, by including a glittering display of fireworks? You don't have to be a firework pro to put on a dazzling choreographed performance in the sky, single ignition fireworks allow you to light the firework once and then stand back and enjoy the show! Just remove the box lid, light a single fuse and hey presto, wow your guests to a spectacular display that lasts just under a minute! Visit www.blackcatfireworks.co.uk for more details.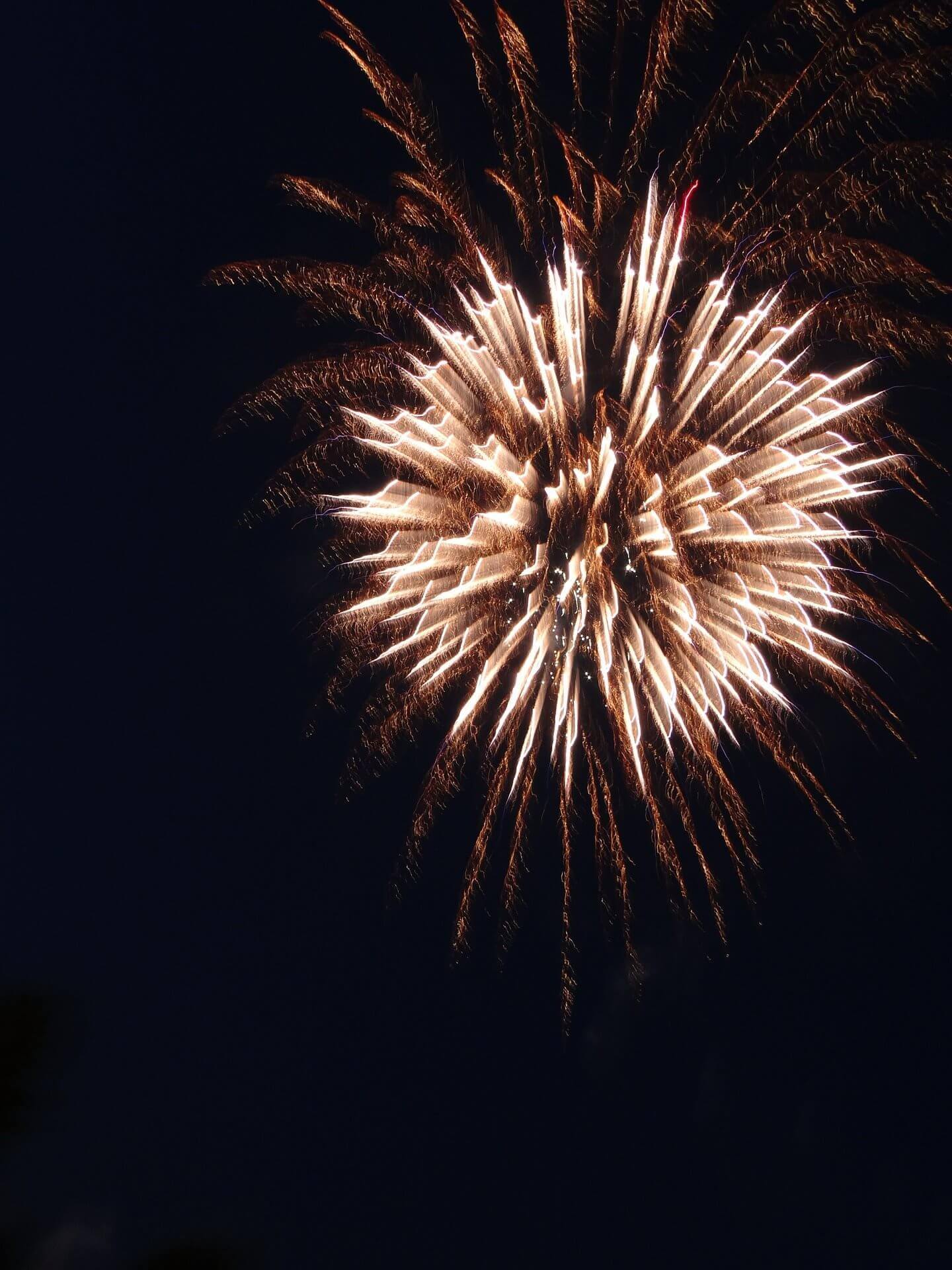 If you missed our first post providing advice on garden based entertaining, visit www.jacksons-fencing.co.uk/News for more helpful tips.