09/06/2022 02:34 PM
What are decking boards?
Decking boards are boards specifically created for building a deck, which come pre-cut and ready to install in a variety of lengths and materials. Decking is great for many purposes, including creating functional outdoor spaces which extend indoor living areas to the outside.
What are decking boards made of?
Decking boards can be made from several types of materials and even combinations of more than one. The most common types of decking boards are softwood, hardwood, and composite. The type of material you choose for your decking boards will be dependent on the specific requirements of your project. It is important to consider the area you want to deck and whether this includes sloping ground, if the decking will be in high footfall areas, as well as your budget and personal style.
What is the best decking material to use?
There are many factors to consider when choosing the best decking board material for you including; price, maintenance levels, functionality, ease of installation, environmental impact, and the overall look and design. We have compared key features of the four most popular materials to help you choose the best decking board.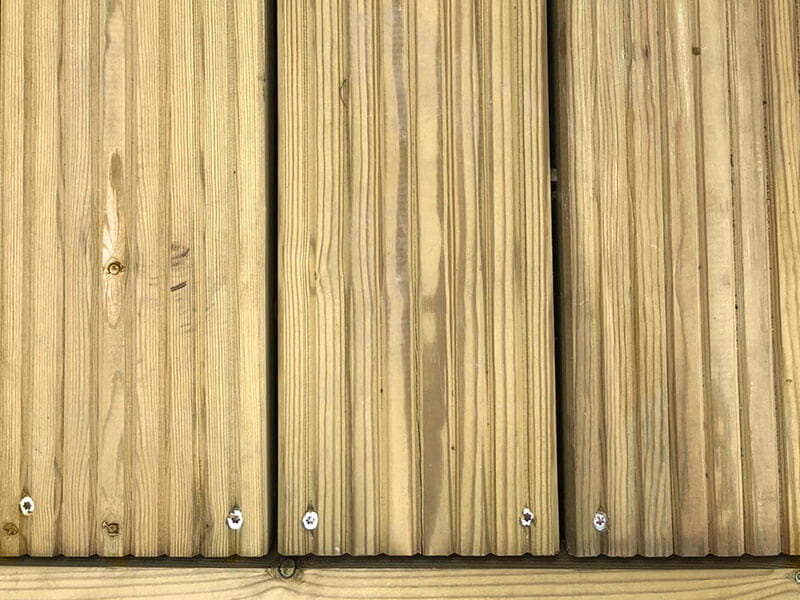 Softwood – softwood is the most common timber used to create decking. The availability of softwood makes it the most affordable decking material to use. It is also favoured in the industry due to its versatility. Due to its popularity, there is a variety of sizes and variations available such as standard, heavy duty, and non-slip decking boards. When choosing timber decking, always look for a long guarantee. Decking joists will be in contact with the ground and therefore need proper protection from rot and insect attack. A superior quality timber decking that has a long lifetime guarantee will last between 25-30 years.
Hardwood boards – While these boards are also made from natural material the initial cost is higher. Hardwood trees take a long time to grow, and the process involved to turn the timber into usable decking boards is lengthy, therefore the initial cost and carbon footprint will be much higher than alternatives. Hardwood decking boards are also more difficult to cut and drill and will often require professional installation or specialised tools, which in turn increases the overall cost. Hardwood species of timber are proven to last a very long time, if maintained properly, a hardwood deck can last 30-50 years.
Composite – Created from recycled wood and plastic that is mixed together with a bonding agent, heated, and formed into board shapes; composite decking comes in a variety of colours and different wood grain effects so you can fully customise decking to your style. The lifespan you can expect for this type of decking is 25-30 years.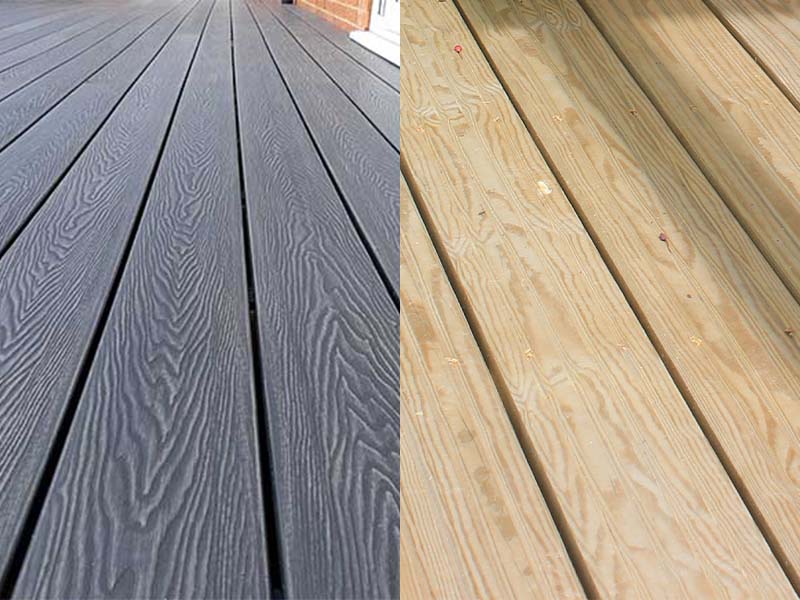 It is common to think a composite deck will not be susceptible to rot as it is made of plastic. However, due to the mix of wood and plastic, composite decking is still prone to rot and therefore needs to be treated correctly to prevent rot.
Composite decking is made from recycled materials but is not recyclable after use. To find out more about composite vs wood decking read our blog.
PVC – This type of board is similar to composite but is made from 100% plastic with no other organic fibres, therefore it is 100% recyclable after use. It is easy to install and low maintenance but can have a synthetic unnatural look. PVC decking is also the most expensive type of board and does not provide a clean-cut edge when cutting down to size on site. Similar to composite decking, when cut it can leave plastic particles behind. As for longevity, capped polymer boards should last for at least 25 years, potentially 50 years with some brands even covering stain and fade warranties for this amount of time.
Our timber decking board range
We offer both standard, heavy duty, and slip resistant timber decking boards. All our timber decking is grooved for slip resistance for an all-year-round functional outdoor surface. We recommend heavy duty timber decking for high traffic areas.
Our slip resistant decking board include lines of resin and aggregate grit mixture in the decking board which significantly increases grip.
Our decking is made from pressure vacuum treated softwood, which is protected against rot and insect attack with our industry leading 25-year guarantee.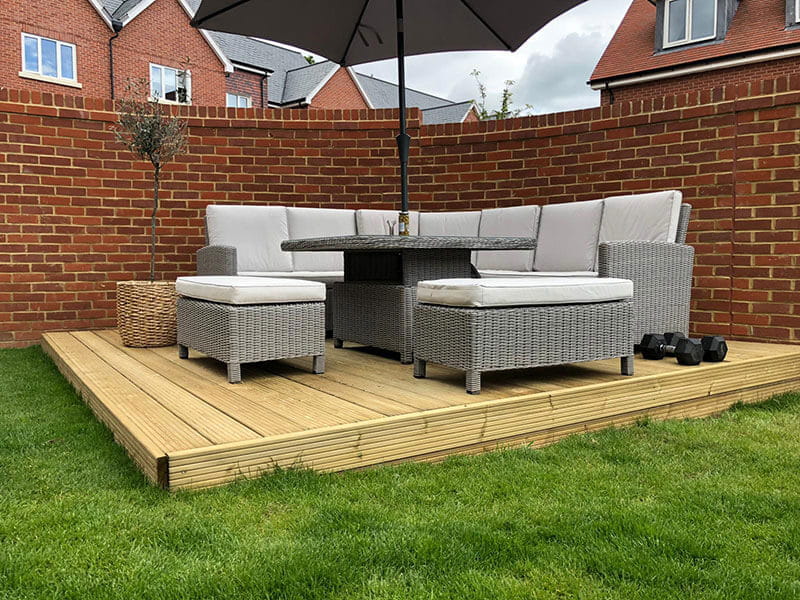 We also offer decking kits in 3 sizes that allow for a quick and straightforward way to install a deck wherever you want one. Our Jak-Deck sizes are 1.80m x 1.80m, 1.80m x 3.60m and 3.60m x 3.60m.
Our 25-year guarantee means that our boards are designed to last and have a similar lifespan to composite or PVC alternatives at a much lower cost.
How to calculate how many decking boards you need?
We have developed a helpful decking calculator tool which helps you to calculate how much decking boards, joists and even nails to create your perfect deck.