19/02/2015 12:00 AM
Why Choose Timber Decking?
Most people choose to have a deck built so they have a space between the garden and the house in which they can entertain guests, use as an outdoor dining area, an area to relax in warmer weather or simply to improve the look of a certain area of their garden.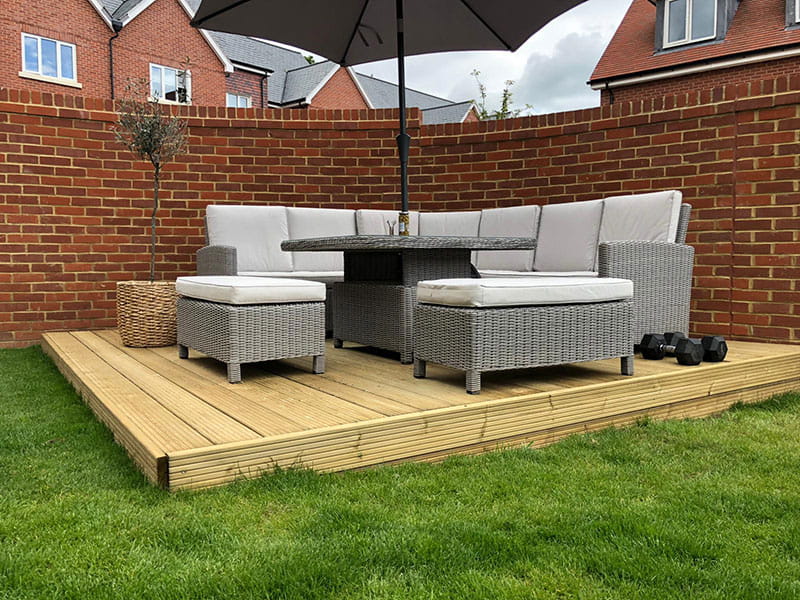 For people who own homes on the smaller side it can also be seen as an extension of the living area and cost less than an extension made of bricks and mortar. Choosing to install decking over hard surfaces and patio can also reduce the amount of excavation and ground work preparation and it can be easily modified to suit any shapes, sizes or uneven ground.
Planning permission for decking
In some cases planning permission for building a deck will be required and Jacksons would always recommend checking with your local authority before work begins.
A couple of the indicators as to whether planning permission is required are;
• If your deck is raised over 300mm off the ground
• Together with other extensions, outbuildings etc, they cover more than 50 per cent of the garden area
How to measure for timber decking
When it comes to measuring the area of the deck you require you would measure the length and width in the case of a square/rectangle shape deck. But for unique shapes you would measure every outer edge to each change of direction and from there you should be able to work out the materials required.
But don't panic with measurements, if you need some help speak to a member of our sales team who would me more than happy to talk to you about your project and work out exactly what is required and give any advice.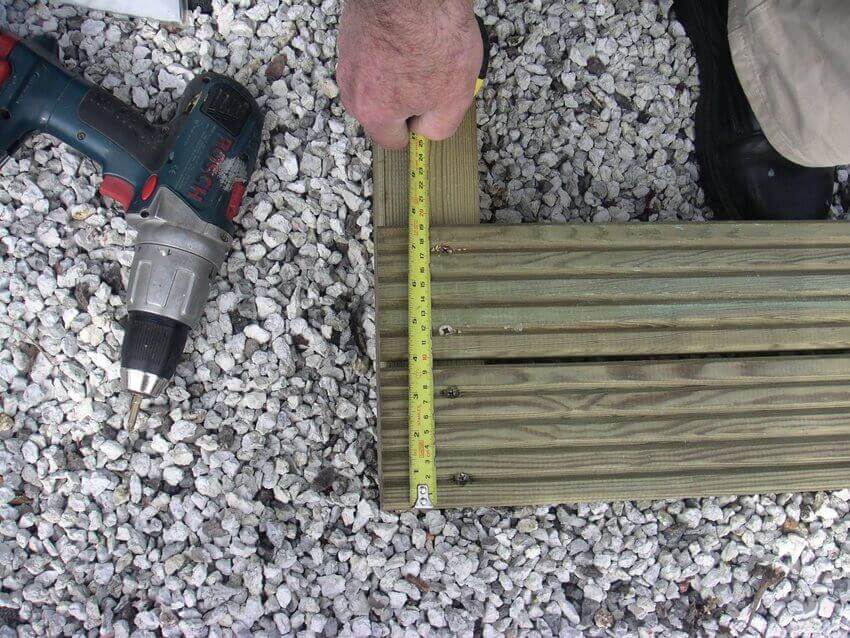 Timber Decking Materials
We offer three types of board. A heavy duty 150mm x 32mm (nominal) board, a standard 100mm x 25mm (nominal) board and a Slip Resistant Heavy duty 150mm x 32mm board. These would sit on timber joists which measure 100 x 50mm 3m or 3.6m long and a 150 x 50mm 3.6m long. The joists are set at every 450mm – 600mm depending on how the deck will be used.
If you are unsure then we would always recommend working on a worst case scenario and putting the posts in at the shorter 450mm centres.
With a Jacksons' timber deck we use 100mm machine round support posts which would be concreted into the ground.
These have a 25 year guarantee against rot and insect attack above and below the ground. As standard you would set the posts in the ground as follows:
• 600mm long posts set in 200mm of concrete leaving 400mm above ground
• 900mm long posts set in 200mm of concrete leaving 600mm above ground
• 1200mm long posts set in 300mm of concrete leaving 900mm above ground
• 1800mm long posts set in 450mm of concrete leaving 1400mm above ground
Our decking calculator can help you calculate everything you need to build your timber deck.
View our full range of decking and find out more about available sizes
All of Jackson's timber decking materials is of soft wood and comes with our 25 year guarantee against wood and insect attack and have also been given an environmental seal of approval by the Forest Stewardship Council (FSC) - which means that choosing a Jacksons timber deck is an environmentally beneficial choice.
When cutting or drilling our treated timber products it is essential to apply Jakcure End Grain Preservative to ensure cut timber is not left untreated. This will also keep your 25 year Jakcure Guarantee valid. Where possible keep any cut sections out of the ground.
Every garden decking project is different. There is no one average size so a rough estimate before planning and measuring your deck is very difficult. In my opinion you get what you pay for. Jacksons' materials are of the highest quality and when compared to other timber decking supplies the 25 year guarantee showcases the longevity and superiority to other products on the market.
What is the correct way to lay decking boards?
Ridges and grooves are designed to prevent slipping and therefore need to be installed facing up. Contrary to some misinformation on the internet, it will not improve air flow and risk of rotting if the grooves are installed facing down. Read our full blog here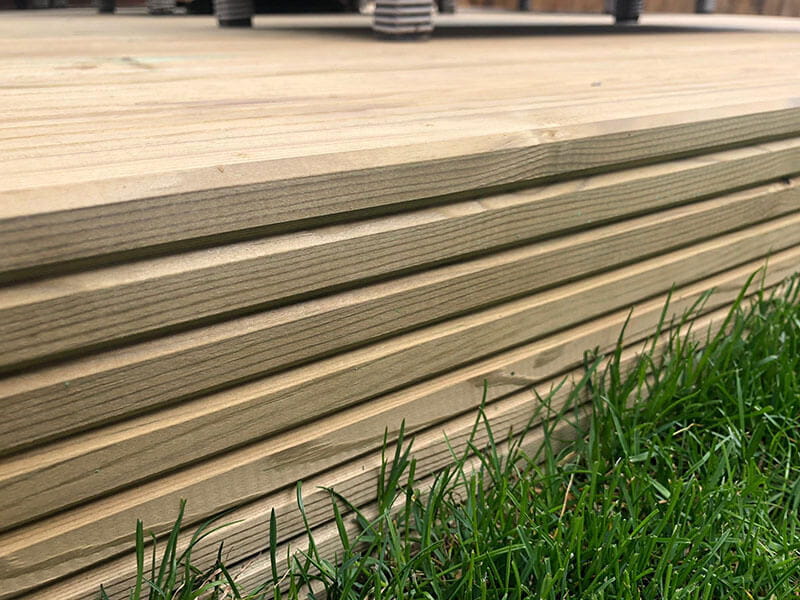 Timber Decking Maintenance & Safety
When planning your deck ensure you space deck boards apart to allow water to drain away easily. Brush your deck regularly to keep any debris like leaves and rubbish from building up in drainage spaces. Debris can hold moisture and the resulting rotting of the debris can lead to unsightly staining on the boards. Move planters, tables and chairs around the deck to allow the deck to dry out under them and to avoid irregular lightening of the boards by the sun.
Our timber decking boards are grooved to reduce the risk of slipping, but timber is a natural material and there will always be limitations, especially as they weather and algae grows on them. The addition of two grit strips to each board significantly improves the slip resistant properties in all weathers. This makes them an ideal choice for steps and areas of high traffic.
In high traffic areas, where slipping is a concern we recommend installing our slip resistant heavy duty decking boards which have lines of grit which help with grip.
As well as decking we sell a timber Balustrade panel that gives a finished height of 950mm and is supplied in pre-assembled panels. These garden balustrade panels come in two different styles, acting both as a hand rail and safety feature. The posts for these panels can either be bolted down to the deck itself or be over length and concreted into the ground a minimum of 600mm. We also offer a gate to match both styles of Balustrade.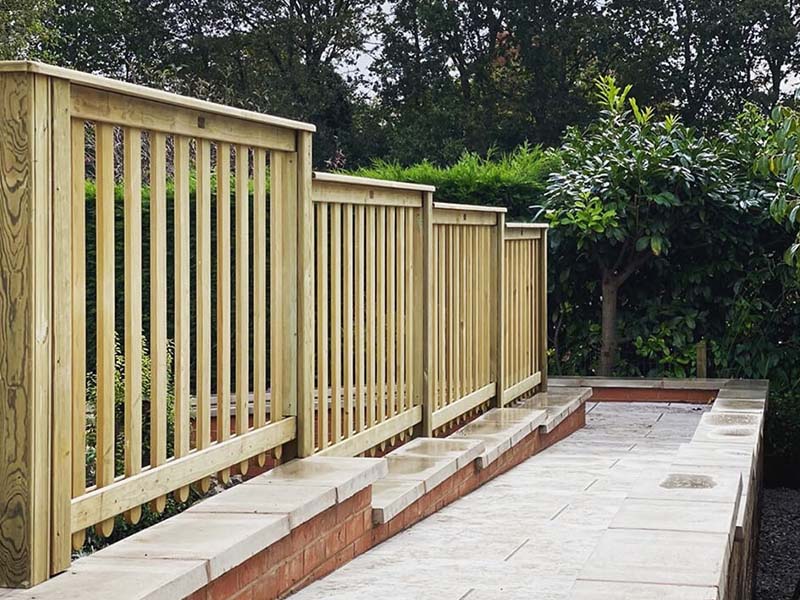 Decking is a great addition to almost any garden and I hope this guide offers some help. Any questions please get in touch.