30/11/2020 12:00 AM
What is Postcrete?
A ready to use blended cement with additives formulated for setting wooden, concrete and metal fence posts into the ground. With only the addition of water Postcrete sets in 10 minutes and comes in handy 20kg weatherproof, durable resistant plastic bags protecting the mixture against the weather and wear.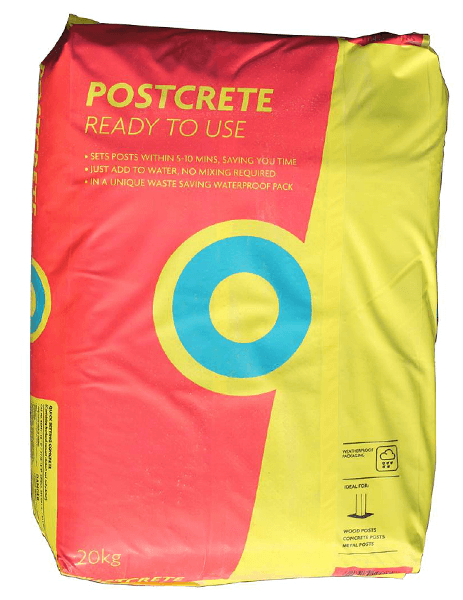 To install fence posts using Postcrete, we recommend placing the fence post into the hole (at the correct depth for the height of the fence), filling the hole one third with water and emptying one bag of Postcrete into the hole on top. Giving it a slight mix to ensure all the Postcrete is wet, then add the remaining required bags evenly around the circumference of the post, ensuring there is enough water to wet all of the Postcrete.
To finish the installation, cover the Postcrete with the soil from digging the initial hole to provide a tidy finish.
Please note: The minimum working temperature for Postcrete is 3 degrees centigrade.
Why use Postcrete?
Postcrete usually sets within 5-10 minutes, in suitable conditions with the solution stiffening within 1-2 minutes. Compared to standard industrial concrete, which takes anywhere from 24-48 hours to fully set, the quick dry time means you can install one fence post after the other quick succession, keeping a consistent pace across the installation.
In addition, you are able to hang fencing, garden gates, trellis and other heavy loads on a post set with fast-setting Postcrete inside four hours. That means a project that could have taken a weekend with standard concrete, could easily become only a days work.
Postcrete is easy to use, as it is basically pre-mixed concrete, just sprinkle with clean water and then mix.
Ready for use
Easy to use, just sprinkle with water
Pre blended concrete mix with fast setting cements and additives
Use dry then apply water
Waterproof and tear resistant packaging
20kg bags