24/10/2023 12:00 AM
A deck is made up of multiple components that are built together to make an outdoor surface which is useable year-round.
Each manufacturer's decking system may be built in a slightly different way so it's always a good idea to check the manufacturer's installation instructions. Not all systems will have everything listed below.
Decking boards
Fascia boards
Joists and noggins
Stringers
Balustrade
Fixings
Weed membrane
To start, there are two main parts of a deck, the foundation or substructure which is the part of the deck you don't see, and the decking surface which is everything you do see.
To view our decking range click the button below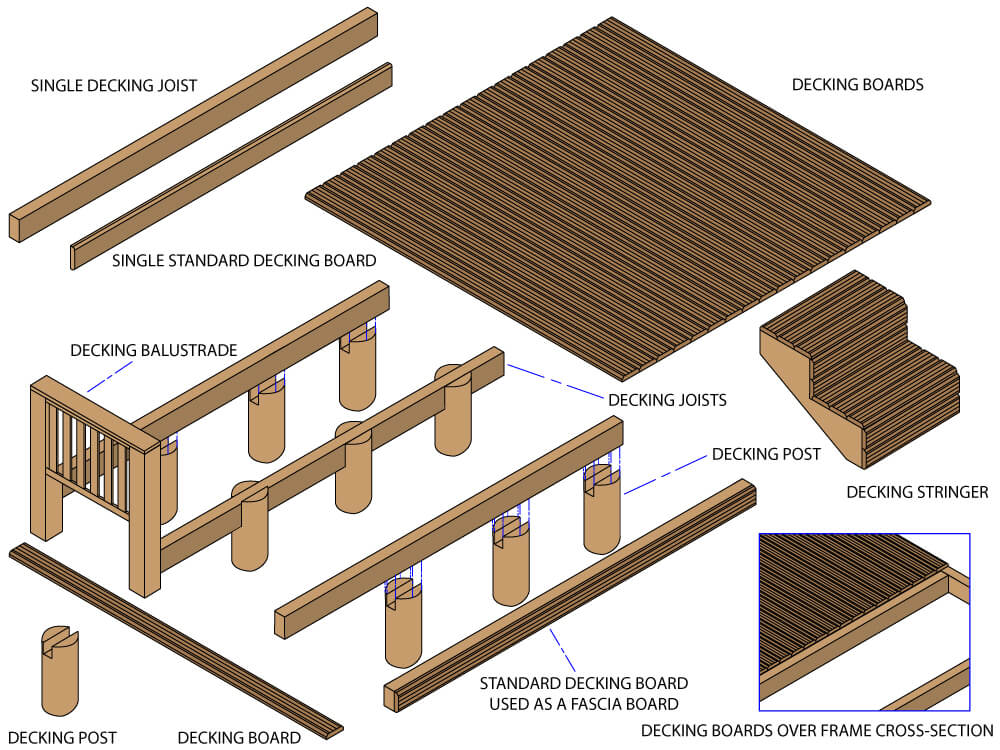 The decking foundation is made up of:
Decking posts
A decking structure needs adequate support to ensure a successful deck. Some manufacturers may only suggest laying the substructure on top of the ground and not have any in ground support. This can cause all sorts of issues with the strength of the deck itself and is very likely to move over time with changes in ground conditions and weather. We recommend for a successful deck, which is fully supported, you install support posts. By installing posts into the ground, the decking foundation is solid, with no movement allowed. The joists are secure to the posts and can't move.
Our decking posts are made with a cut out for the joist to sit into. This reduces any installation snagging and avoids having to cut any in ground timber.
Another alternative is decking feet. These can be used when installing a deck on an existing solid surface like concrete.
Decking Joists
Joists provide the structural support for the decking boards. They are installed into the slots of Jacksons support posts to create the substructure. Other deck systems may use noggins or support braces between the joists to give strength. These are not required with a Jacksons Fencing decking system.
It's crucial that you choose quality timber that has been treated accordingly for in-ground conditions. Without this, timber will easily rot, and the deck will fail. Even if choosing alternative materials to timber for the decking boards, choose the best quality for the substructure.
Hardware
The screws and nails you use to install the foundations of a deck are crucial to its overall success. We recommend galvanised or stainless steel nails for the substructure as conditions will most likely be damp and therefore cause increased corrosion. Galvanisation provides a protective layer and increases longevity. Above ground, to attach boards and fascia's, we recommend stainless steel decking screws as they provide the most superior protection against rust, and therefore won't leave any rust marks on your decking surface.
The decking surface is made of:
Decking boards
Decking boards are the boards that sit on top of the foundation and are manufactured most commonly from composite or timber. Decking boards make up the main component of the surface of the deck and should be laid in the opposite direction to the footfall direction to increase slip resistance. Grooved boards are a necessity as these will help reduce the chance of slipping. Decking joists are secured to the posts. Joists should run in the opposite direction to the decking boards on top so that they are secured all the way along the deck. For heavy duty decks with high footfalls, we recommend heavy duty or slip resistant decking boards which have added lines of aggregate.
Composite decking has become more popular but there may be concerns with its overall safety. We review in our blog

Fascia boards
Fascia boards are decking boards that cover the sides, front, and back of a deck to hide the sub frame and make the decking look complete from all angles.

Stringers or decking steps
A stringer is a timber frame that is used to create steps for decking. The frame is the support for the decking boards that are attached horizontally and vertically to the stringer, creating steps
Balustrade
Timber Balustrade is a decorative railing which is attached to the side of steps that make up a deck. If decking is raised, a balustrade may be needed to protect users from a change in ground level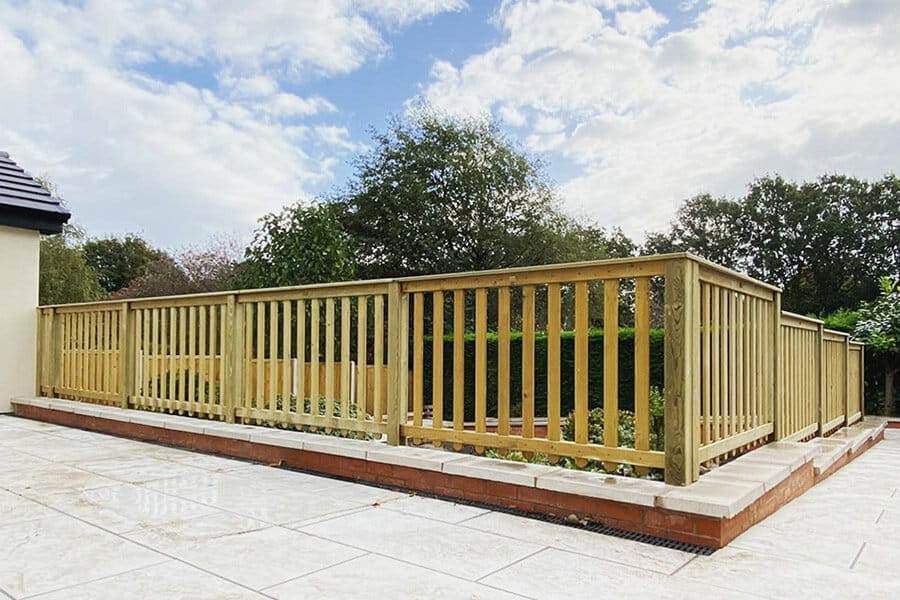 Weed Membrane
A weed membrane is often advised to prevent weeds and grasses growing underneath the deck. This should be laid at ground level and not over the joists as it could reduce ventilation and increase the chance of rot. It is also advised that the weed membrane is not in contact with any of the joists.