28/09/2023 12:00 AM
Bare, lacklustre gardens or large spaces may need some help to create personality and interest. With a paired back canvas, you can make it full of interest by dividing up the space to create a series of outdoor rooms or specific areas for designated activities.
There are many ways to partition your garden, we explain how.
How do I partition my garden?
Types of Garden Dividers
Trellis may be the most obvious garden divider but it's popular for a reason. Adding a decorative feature to divide your garden can make a real focal point. Trellises offer added benefits over solid fence panels as they can be paired with climbing plants, turning your divider into a green screen. Adding foliage will increase the coverage and privacy you can attain from a garden divider. Trellis can be used as a singular panel or in a corner shape to enclose a seating area. There are many styles of trellis available to customise your space.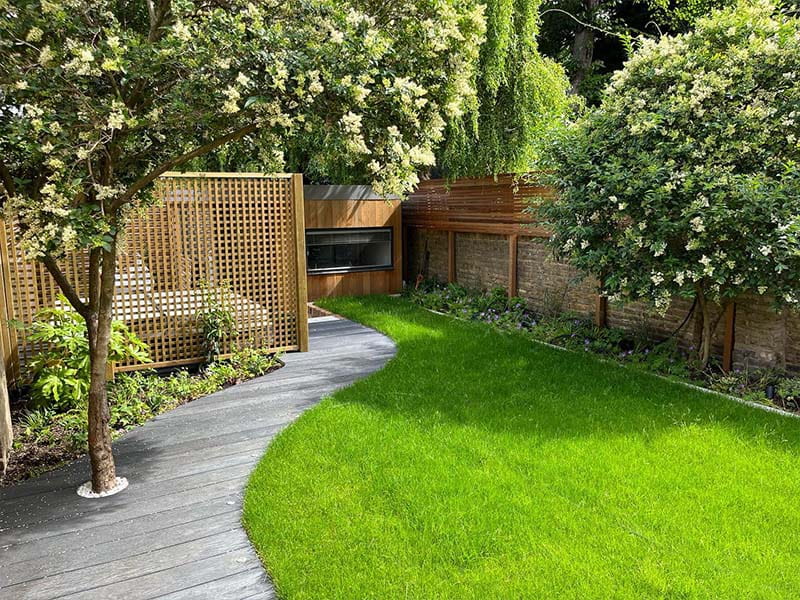 Fence panels, especially semi-solid ones, are great garden dividers. They ordinarily divide gardens between houses, but they can also be used to divide areas of one garden. Solid fence panels will conceal what's behind and are perfect for use when ultimate privacy is required, or when you want to hide objects from view. This is a great technique to hide unsightly garden objects and improve your garden aesthetic.
Natural garden dividers such as shrubs, hedges, or areas of planting can provide a natural garden divider between areas. Most commonly, lawn areas are divided from paving or decking with an area of planting. Pleached trees or hedges on stilts will divide areas with height.

Designated pathways in your garden keep users from straying but can also help to subtly divide areas. Pathways can be used to divide areas of the garden with different functions on either side. Pathways can be made with paving stones, gravel, or timber sleepers, and the material you use will also become the connection; flowing from one area to another.


Pergolas have vertical posts which help to divide areas as they create a frame, usually around a seating area or areas of planting. This encloses a space and makes the space feel like an outdoor room, therefore dividing it from other areas of the garden. Pair your pergola with lights and add a fire pit to make a cosy evening relaxation and entertainment spot.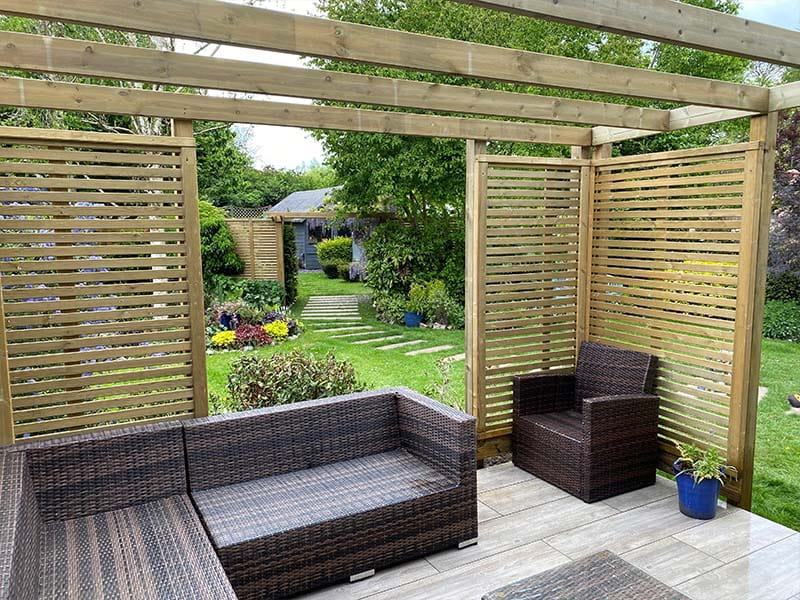 Timber sleepers are substantial pieces of wood that can be used in a variety of ways. Depending on the type of sleeper, the uses to divide can vary. Timber sleepers are most commonly used to create a raised bed. Raised beds are great at framing a seating area and can be filled with vibrant plants to make a decorative garden divider.
Garden sleepers can also be used to create retaining walls to help cope with sloping ground. This will divide the garden into functional flat spaces or hold excess soil behind to create a useable space.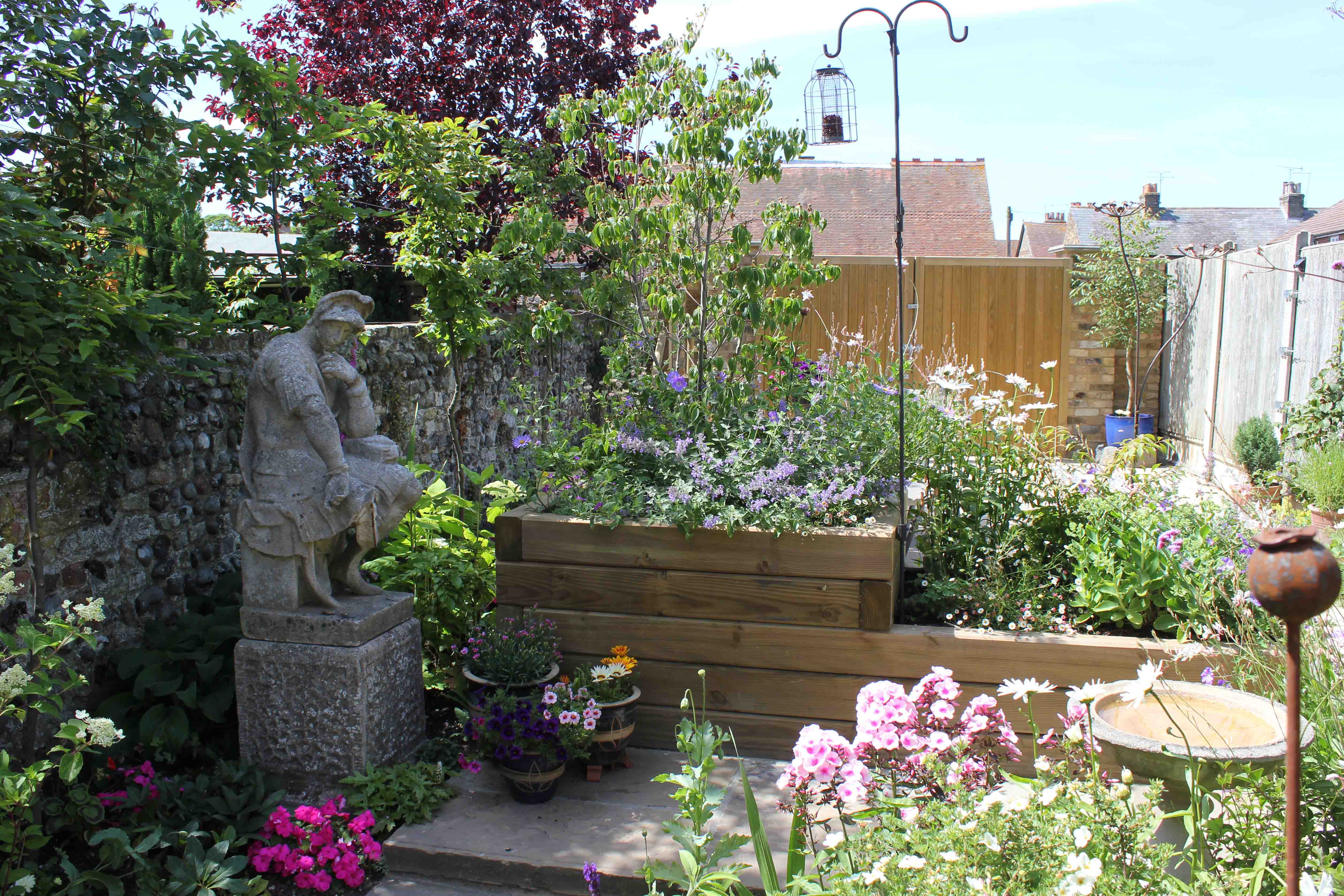 Flow is crucial in a garden; moving from one area to another with ease. Sloping gardens aren't the most functional, as changing ground levels may impact what each area can accommodate. Creating levels not only makes the best use out of the space but will help to divide areas with distinct levels.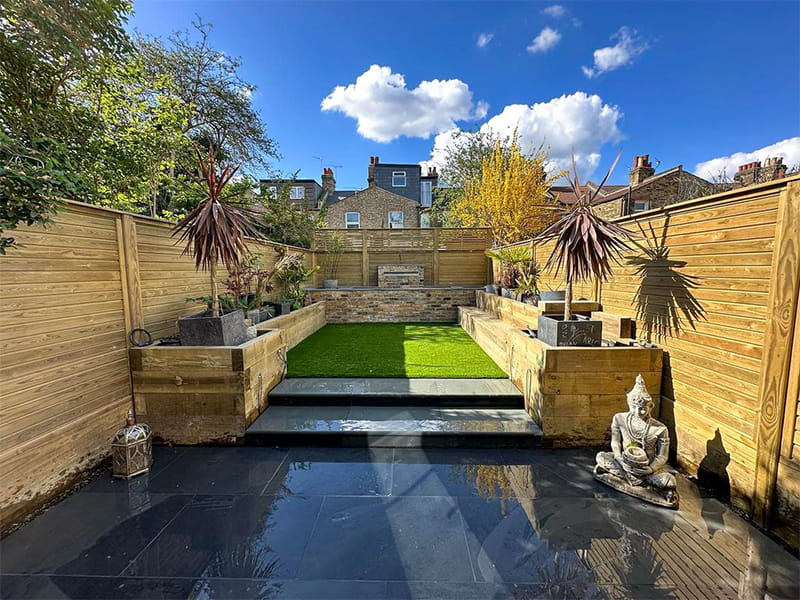 Lawn edging involves establishing a distinct and well-defined border around a lawn or grassy area, typically in conjunction with nearby elements like flower beds, walkways, or other landscaping features. This straightforward technique for garden division is practical and easy to implement.
Lead on from one part to another with garden arches. Elegant in design, arches will compel the garden goer to want to see what's beyond - a garden doorway dividing one room from another. Use climbing plants to encase the timber or metal for a floral archway.