26/07/2023 12:00 AM
Designer homes cannot afford to overlook fencing. It's often the first thing visitors will see upon arrival and a houses appearance from the exterior can leave a last impression.
New build contractors enlisted Jacksons Fencing Approved Installer Oilcanfinish Outdoor Living, who carry out premium decking and fence installations across South West London and Surrey.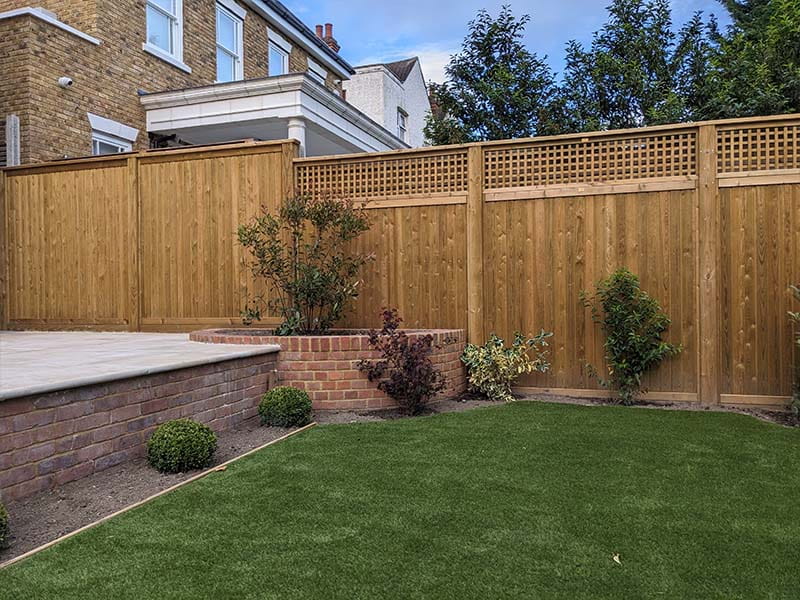 For the front driveway, 1.83m high Vertical Tongue and Groove fence panels were installed with 0.43m Lattice Trellis panels on top. This panel combination continued through to the rear garden.
It's worth noting that planning permission was obtained to install a fence over 2 metres. Most areas will require planning permission for fencing over 2 metres, but this does very across the country. Always check with your local authority before installing new fencing.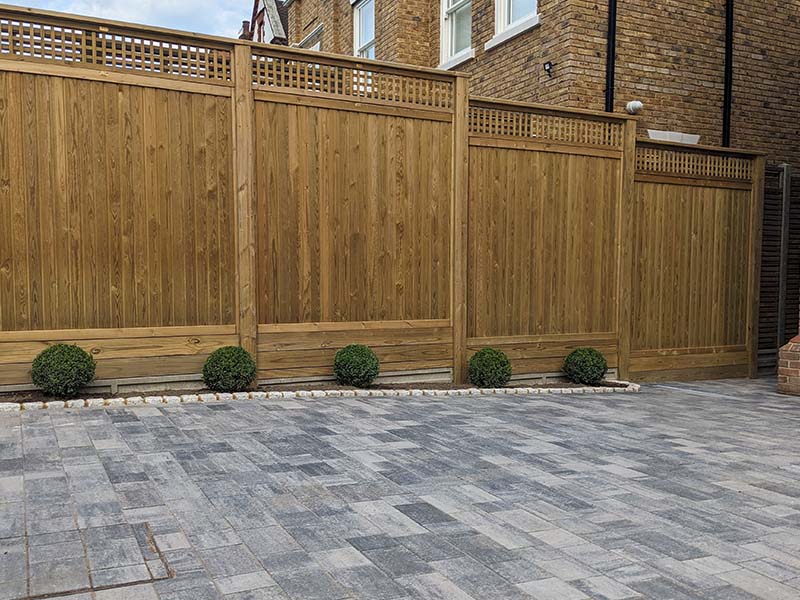 Our Tongue and Groove Effect fence panel is one of our most luxurious panels in our range. Designed with traditional tongue and groove panelling in mind, our version of Tongue and Groove fence panels give the effect of the traditional technique but create it in a practical form. Substantial timber boards are installed vertically with support from a back rail and morticed and tenon jointed frame. All fixings used are stainless steel to ensure longevity. We only use stainless steel fixings when manufacturing all our fence panels as they are the highest quality nails that will not rust and assured to last.
Our Lattice trellis panels were installed as topper panels to our Flat Top Tongue and Groove fence panels. Trellis is a great option to add on top of a solid fence panel to create a unique fence that also adds new dimensions in the garden. For this installation, 0.43m high Lattice Trellis panels were chosen. Trellis is semi-solid and will allow light and air to flow through. When choosing a solid fence panel, pairing it with a semi-solid topper panel keeps the garden feeling open and less closed in, especially when there are neighbours all around.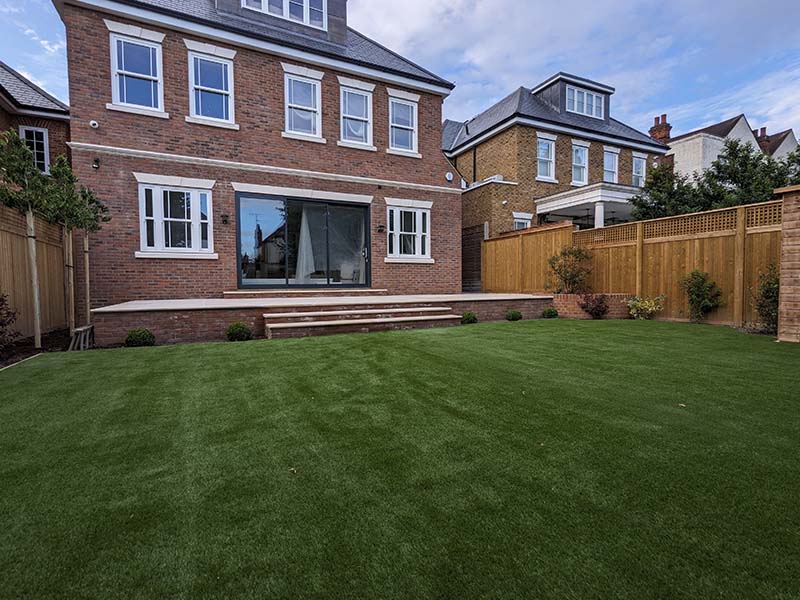 With designer homes, every detail counts and aesthetics are everything. To ensure the garden gave designer vibes, fencing was installed with the rails facing the outside, so the good side of the fence was visible to the homeowners.
We always recommend installing rails facing the inside to limit any climbing aids created from the rails on the back of the fence, but for homes with neighbours on all sides, there may be less risk from intruders gaining access. The boundary line of the house had different ground levels. To combat this, Oilcanfinish made the decision to change the height of the fence at ground level. This meant adding multiple gravel boards to the base of the fence to increase the overall height. The fence panels are still stepped but this technique gives a more uniform look.
Gravel boards are essential when installing fencing as they protect the panels from ground contact. To qualify for our industry leading 25-year guarantee, gravel boards must be used beneath our fence panels.
To ensure privacy levels in the garden, across the raised patio area, only the Tongue and Groove panels without the trellis topper were installed. This prevented any line of sight through to the entertaining space on the patio.
Due to the height of the fence, heavy duty fence posts were used. Fence posts are essential to keep your fence upright, and with taller fences extra weight and strain can be put on them. To ensure your fencing will last and not fail during its lifespan, choosing the correct length and density of fence posts is essential. Heavy duty fence posts are larger in width and depth giving them more strength.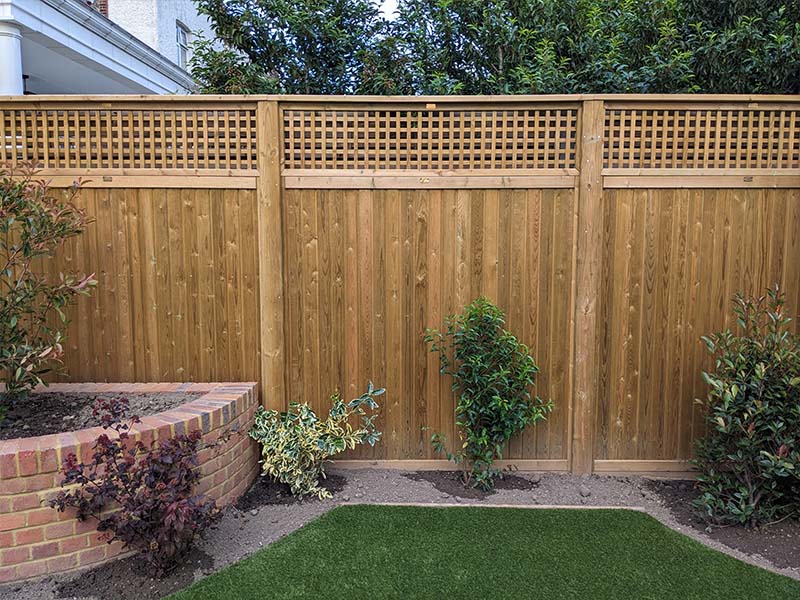 In the garden, the air vent system was thoughtfully placed behind the garden shed. If you have a similar item in your garden, you could also consider installing a screening panel to hide it from view.
On one side of the garden, to increase privacy levels even further, pleached trees were planted. There are no height restrictions on trees so if you want to increase the height of your existing boundary without planning permission, tall trees are a good option. Pleached trees will spread their canopy for better coverage and more privacy.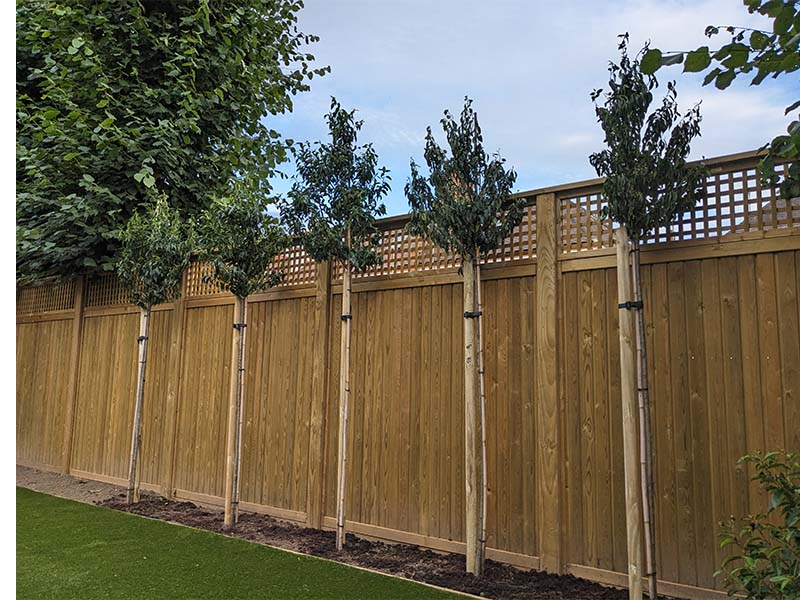 When considering a premium designer fence it's essential to consider a highly skilled and experienced fence installer to ensure the fence is installed the correct way. This will ensure your fence looks the best it can and lasts for many years into the future. Oilcanfinish showcased their expert, versatile skills in this designer fence installation.