08/06/2018 09:22 AM
Some would see a 2-acre garden as a mean feet, but when one lady, aged 90 decided she could no longer maintain her previously high standards, she enlisted her daughter and son in law to help.
Between the 3 of them, it took 5 years of planning, measuring, digging (endlessly), levelling and building using Jacksons products.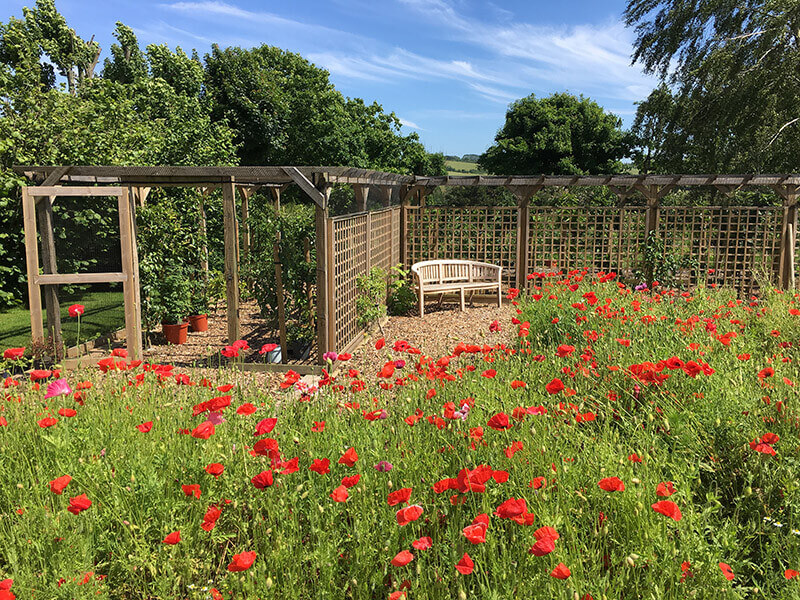 A central feature of the garden is the pergola that we built from scratch. It is a huge L-shaped structure about 15 metres x 10 metres using 12 x Jacksons 2.7 metre double pergolas, with an additional 6 x single pergolas to form a colonnade. The structure has many purposes. It is fully netted allowing us to grow 50 cherry, plum and pear columnar trees plus apricot/peach and olive bushes inside either side of a wide path. Beyond the pergola is an apple orchard with 15 dwarf bush and 15 columnar varieties. Beyond that is an orchard with unusual fruiting shrubs such as Buffalo currants, Saskatoon, Aronia, Autumn olive, Pointilla, Goji, Blue Bean and Sechuan pepper, all edged by rhubarb plants and with a mulberry tree centrepiece.
In front of the pergola is a lovely covered walkway and corner seat, with the netted sides providing support for a Victoria plum fan, a Humbug pear fan and an espalier Bramley apple, interplanted with primocane raspberries. On the slope up to the main lawn is the wildflower meadow to encourage smaller wildlife.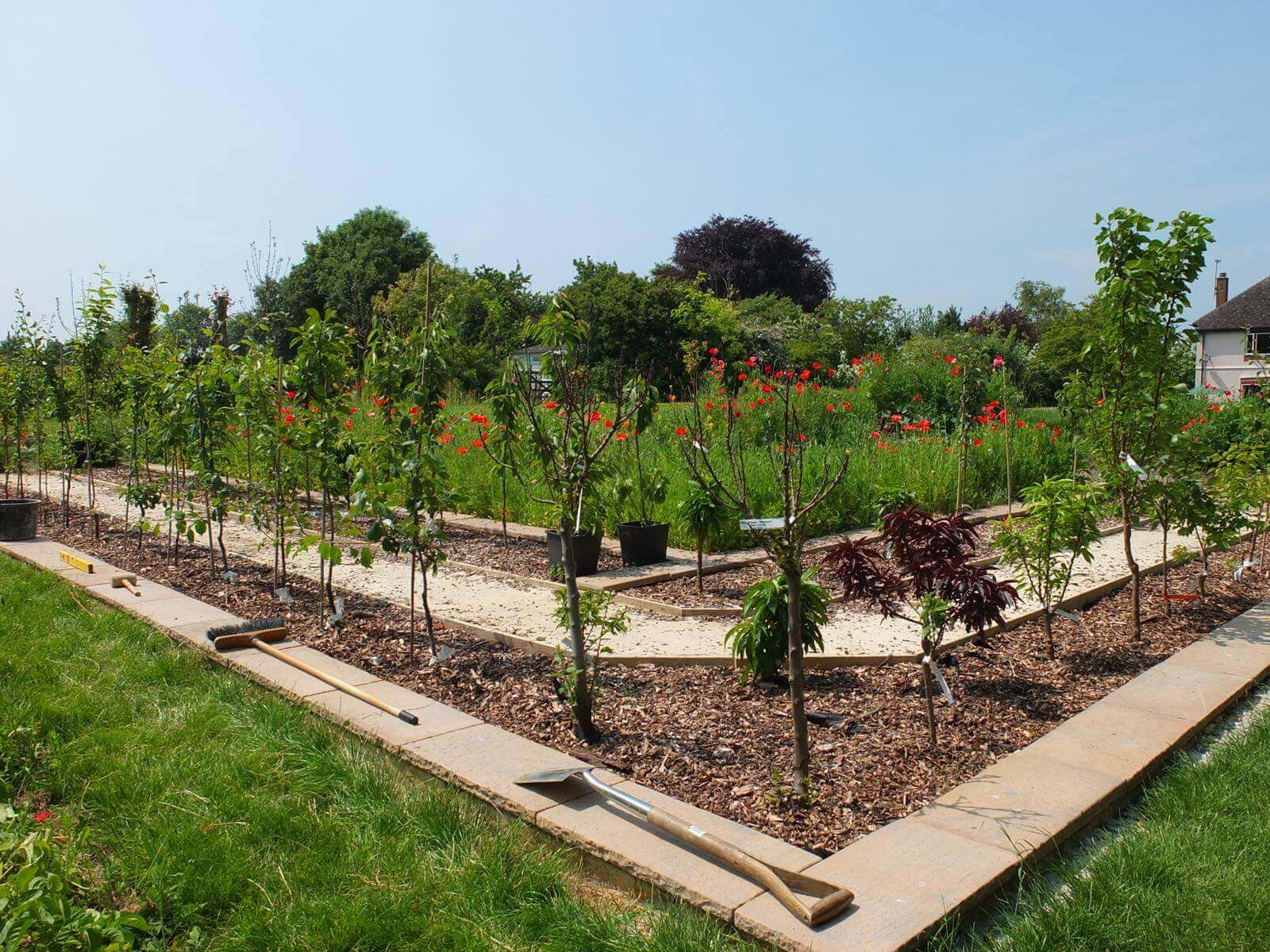 Another key feature of the garden is a former large marquee, which was stripped of its canvas and its poles concreted into the ground to create a permanent structure within the garden. The whole structure was then netted and acted as an effective, very large fruit cage. It allows us to grow gooseberries, currants (black, white, red and pink) and honeyberries, with supports for boysenberry and purple raspberries, plus fig trees in pots either side of a lovely seating area sheltered by Jacksons Venetian panels. Venetian panels are perfect for situations like this; they offer a great object to support climbing plants, fruits or vegetables. The natural timber does not look out of place and is the perfect backdrop to this seating area. Jacksons panels are guaranteed for 25 years so we have no worries about having to replace it anytime soon.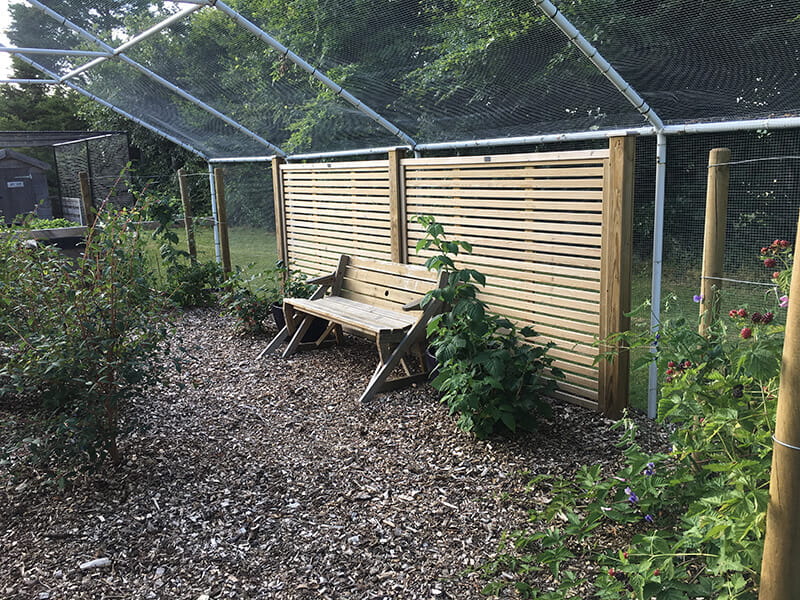 We have a woodland area with a swing seat under a beech hedge canopy and backed by fence panels: the area is dotted with white birch trees set off by a carpet of bluebells in the spring, and shade-loving plants all year round. Near the house is a small secluded pergola using – you've guessed it – Jacksons pergola parts, with climbing plants for overhead shade.
We have 3 whippets inside the garden and colonies of rabbits outside so separation is a necessity. 20 years ago, a professional fencer constructed a close boarded fence using Jacksons products – it still stands today. Other fencing includes 2 fences erected ourselves using Jacksons picket fencing for a light, open look but with rabbit proof netting below.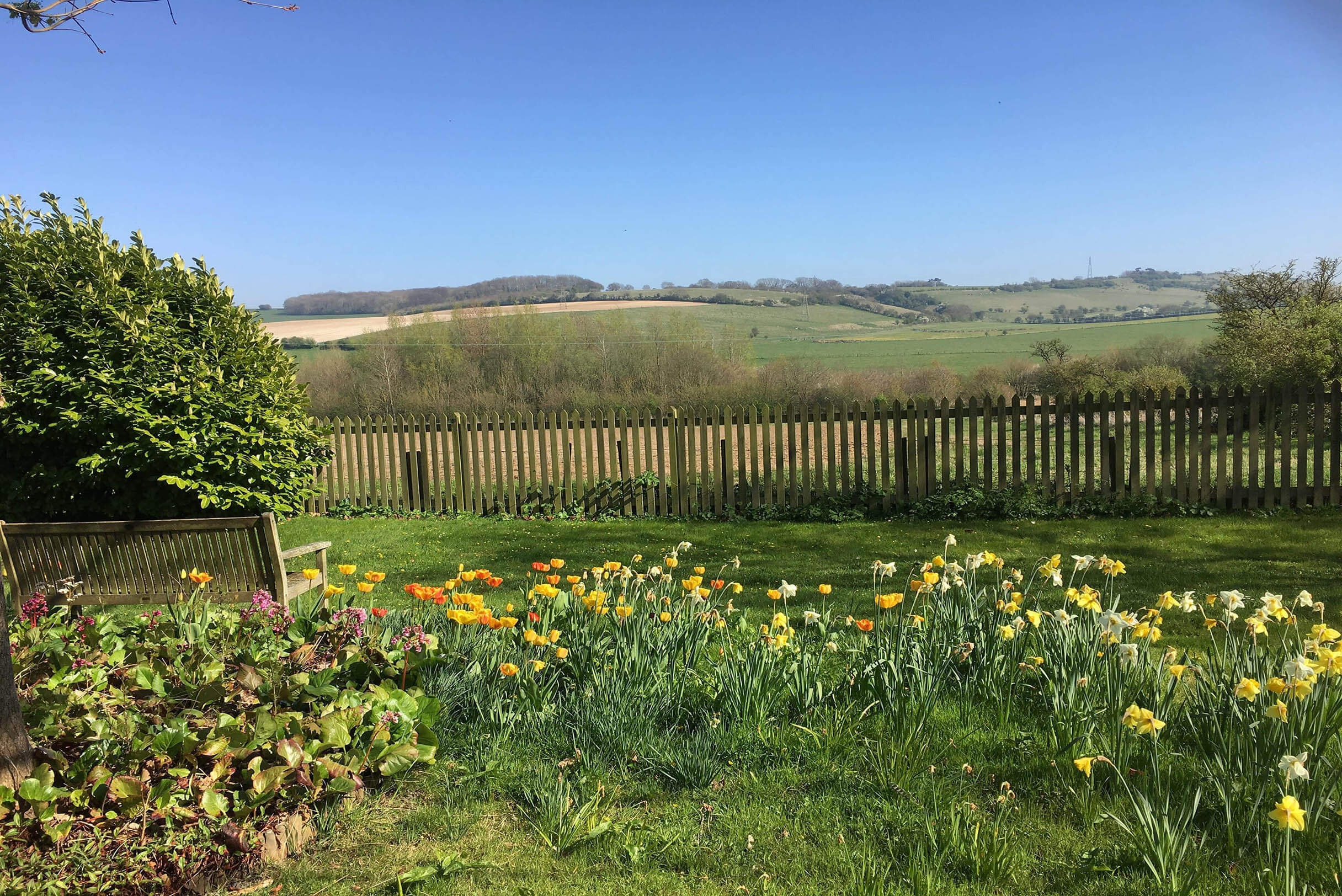 We are coming to the end of a 5-year project to make a low maintenance but productive garden. We have completed various 'rooms' – an idea so beloved of garden designers – but always with a view to reducing ongoing maintenance. So there is a no-dig vegetable plot with raised beds and weed-free paths, several fruit cages containing raspberries, trugs for cultivated and alpine strawberries, and raised beds filled with ericaceous soil for blueberries, cranberries, and lingonberries. Near the house is a herb plot with 40-odd different herbs, raised beds for salad crops, a potting area, and a solar shed for propagating and raising plants. Current work in progress is a large polytunnel for all-year salad crops and for overwintering less hardy fruiting shrubs and trees such as Pomegranate, Chilean guava, Arbutus, Drimys and Carolina allspice – plus room for a 6 metre hydroponics bench for autumn and spring salads, herbs and tomatoes (our son has a hydroponics business).